Surfing Personal Checks
Order Surfing theme and other Sports and Hobbies bank check designs online in a variety of styles.
Matching labels and covers are also available to compliment most of these personal check designs.
---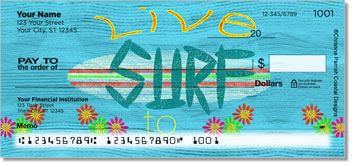 Barker Surfing Checks
...

---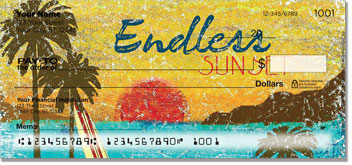 Beach Boys Checks
...

---
Big Waves Checks
Big Wave Checks - These big wave personal checks are so crisply shot, so perfectly frozen in time, you'd swear you were in for the soaking of your life! Blown over whitecaps and tall, breathtaking swells, this personal check series is truly tubular!...

---
Bronze Surfer Personal Checks
Bronze Surfer Personal Checks - The bronzed surfer in these tropical-themed illustrations is all set to hang ten in the brilliant sunshine. Wax your board and put on the sunscreen--it's time to ride the waves. Cowabunga!...

---
Catching The Wave Personal Checks
Surfing Checks - Catch the waves with these hot action-packed surfing checks! Share your passion for the sport with these colorful, fun surfing bank checks. ...

---
Crazy Surfboards Personal Checks
Surfboard Personal Checks - Surfs up dudes! You'll be ready to catch some waves with these four vibrant surfboard checks! Get ready to hang ten without even going in the ocean!...

---
Duck Diving Checks
Surfing Checks - The surf is always up with these tubular surfing personal checks! Dodge the sweeping current and buck the trend with this striking alternative to those old boring bank checks. Professionally photographed from an underwater perspective, these colorful beach personal checks are full of watery fun! ...

---
Endless Summer Personal Checks
Put on your Hawaiian shirt, grab your surfboard, hop in your classic Woody and head to the beach. Featuring classic paintings by America's best know coastal artist, Paul Brent, Endless Summer checks and accessories are a must-have for any avid surfer....

---
Extreme Surfing Checks
Surfing Checks - Cowabunga! These incredible extreme surfing personal checks will slap you straight in the middle of the action! Photographed professionals, watch some of the greats crush it on the open water. Surf's up!...

---
Hawaii Surfing Personal Checks
Hawaii Surfing Personal Checks - These personal checks feature shots of surfers carving some of Hawaii's massive waves. Surf's up!...

---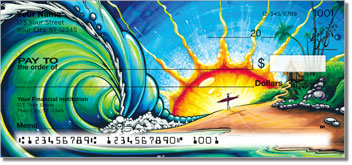 Soul Surf Checks
...

---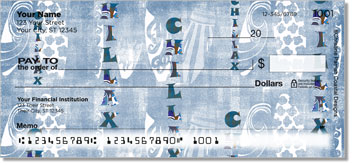 Surf Patterns Checks
...

---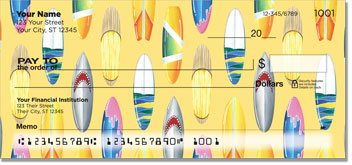 Surfboard Checks
...

---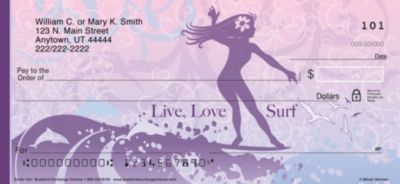 Surfer Girl 4 Images
Surfer Girl Checks Let You Ride a Wave of Fun! - From the beaches of California to Hawaii and beyond, surfer girls know how to catch a wave and have fun! Now, hit the sand and hang ten when you use these surfing checks from Bradford Exchange Checks. Showcasing the beach themed artwork of artist Micah Harman, four colorful designs feature surfer girl imagery and patterns that will make you think of an ocean paradise. Each check has one of four different phrases which include, Live, Love Surf , I'm on Island Time , Surfs Up! and Life's a Beach .Plus, you'll find these surfer personal checks are just as practical as they are an awesome touch of fun in the sun. Brought to you exclusively by Bradford Exchange Checks, they're expertly re-created with premium-quality check printing. Don't let this opportunity get swept away - get your Micah surfing art checks as soon as possible! Order now! Pricing shown is for 2 boxes of Singles....

---
Surfer Leather Checkbook Cover
Surfer Leather Checkbook Covers are meant for top tear checks. The cover has a set of internal linings that are matched with suitable fabric. There are even 6 slots for keeping credit cards....

---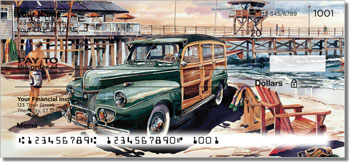 Surfin Woodies Checks
...

---
Surfing At Sundown Personal Checks
Surfing At Sundown Personal Checks - Take a trip to the beach each time you open your checkbook with these invigorating Surfing At Sundown Personal Checks! ...

---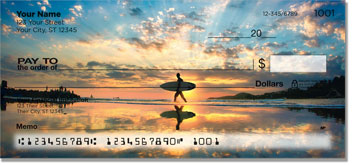 Surfing Checks
...

---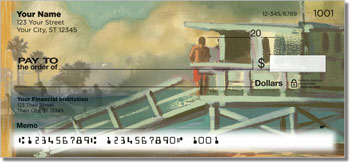 Surfing Journal Checks
...

---
Surfs Up
Take a look at the waves in our Surfs Up Personal Checks series. These are the waves that draw the adrenaline junkies to the surf. Surfing actually includes any pastime that involves being carried to the shore on the crest of a wave. Therefore, we can include longboarding, shortboarding, and boogie boarding, as well as other associated sports like wind surfing, kitesurfing, paddle boarding, and sea kayaking. Feel the ocean waves and grab your gear because the surf doesn't wait!...

---
Surfs Up Checks
Surfing Checks - Get out of the office and into the water with these extreme beach surfing personal checks! The perfect way to spread a little bit of fun and relaxation with every errand you run, these checks are out of the box and are a great alternative to the bland standard....

---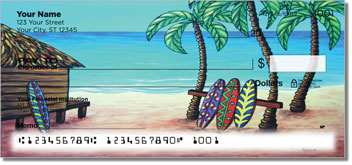 Surf's Up Checks
...

---