Sailing Personal Checks
Order Sailing theme and other Sports and Hobbies bank check designs online in a variety of styles.
Matching labels and covers are also available to compliment most of these personal check designs.
---
A Sailor's Perspective Checks
Sailor Checks - Safe sailing ahead! Take yourself away on your personal yacht every time you go to the grocery store. These four photographs taken from interesting perspectives will make you feel like the captain of your financial future!...

---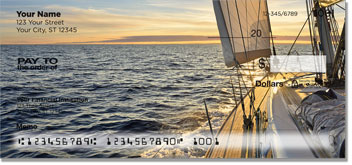 All Aboard Checks
...

---
Anchors Aweigh Artistic Personal Checks
Anchors Aweigh Personal Checks - Get out your compass and get ready to go on adventure with these enticing Anchors Aweigh personal bank check designs. ...

---
Artistic Look At Sailing Checks
Painted Sailing Checks - Ahoy matey! These beautifully stenciled sailing personal checks capture the beauty of every moment spent on the water! Let your passion thrive with these artistic and stylish boat painting personal checks. You're never far from shore (or maybe you are!) with these boldly colored boat personal checks!...

---
Golden Daze Personal Checks
Golden Daze Sailing Checks - Be prepared to sail into the sunset with these peaceful sailing personal checks! You'll feel the breeze through your hair and the smell of the ocean every time you open your checkbook! These serene sailing images will leave you feeling as calm as the ocean!...

---
On Deck
Sailing is a sport and it is a passion. You can express that passion by choosing Sailing Personal Checks. With four images contained within these checks, it is easy to feel as if you are going to be pulled right onto the sailboat in the images. There are some rather breathtaking shots of the boat and the water in the background. The idea is for you to feel comfort and serenity when looking at the checks.Sailing personal checks are also of a high quality for a great price. You certainly don\'t want a check that is flimsy. You want them strong like your sailboat, making sailing checks the ideal choice for the passionate sailor....

---
SAIL Personal Checks
Fair or foggy skies, calm or chaotic waters, seafaring craft have a language all their own--ensuring safe travel for all. While you're enjoying your nautical voyages, be sure to get on board with SAIL personal checks at the ready....

---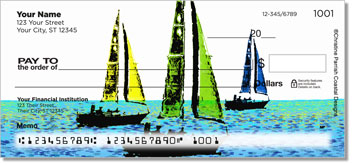 Sailboats Checks
...

---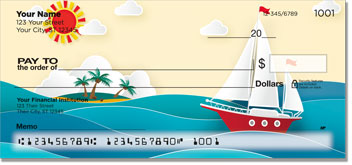 Sailing Adventure Checks
...

---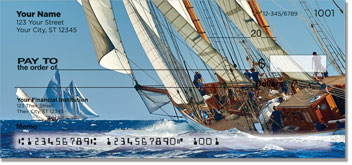 Sailing Checks
...

---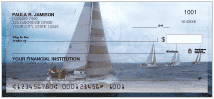 Sailing Checks
Set out on a nautical journey with Sailing personal checks. Spend time in the open sea with this 4 scene design which displays a variety of sailboats and their sails flowing in the breeze. Let Sailing Checks navigate their way into your checkbook. Matching labels and coordinating cover also available. Product Description Singles Duplicates Checks per pad 25 20 Pads per box 5 5 Checks per box 125 100 What's Included FREE 20 Deposit Tickets and1 Transaction Register...

---
Sailing Golden Skies Personal Checks
Sailing Golden Skies Personal Checks - Be taken away by these gorgeous golden skys every time you open your checkbook. This very serene photo pictures a lighthouse and beautiful blue water as the sun reflects through the clouds. If you're looking for a beautiful escape, then share this beautiful and relaxing setting with every check - Sailing Golden Skies Personal Checks!...

---
Sailing Personal Checks - 4 images
What's Included Per Box: 5 Pads of Checks 20 Deposit Tickets 1 Transaction Register...

---
Sailors Dream Personal Checks
Sailors Dream Tropical Personal Checks - Dreams of tropical beaches, palm trees, sail boats and warm ocean breezes fill your mind. You'll never have to leave that island state of mind with these artistic personal bank checks in your checkbook. It's all here....

---
Sea Of Dreams Personal Checks
Sea Of Dreams Personal Checks - Escape on a sailboat and be whisked off into the sunset each time you open your checkbook with these alluring Sea Of Dreams Personal Checks! Each one of these captivating images will take you on a magical vacation and away from the hustle and bustle! Sail away with me!...

---