Kayaking Personal Checks
Order Kayaking theme and other Sports and Hobbies bank check designs online in a variety of styles.
Matching labels and covers are also available to compliment most of these personal check designs.
---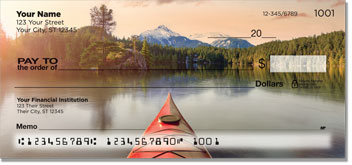 Kayak Checks
...

---
Kayak Wave Surfing Checks
Kayaking Checks - Hop into these sporty kayaking personal checks! Fight the current with these distinctly unique, professionally photographed check designs that challenge the norm and stand out! Make a splash every time you open your checkbook, and leave those other boring bank checks all wet!...

---
Mountain Lakes On Kayak Checks
Canoeing Checks - Need an escape? Want to get out of the office and into nature but couldn't pack your canoe or kayak? These awesome mountain kayaking personal checks are a pristine fantasy just waiting for you to jump into. Crystal clear waters and relaxing serenity await you!...

---
Serenity On The Kayak Personal Checks
Kayaking Checks - Serenity is not lost with this peaceful kayaking personal check series! Relax and be whisked away to fun times had, or exciting trips yet to come! Spread inspiration, and celebrate your love for the great outdoors with these gorgeous kayaking landscapes! ...

---
White Water Extremes Personal Checks
White Water Kayaking Checks - These extreme kayaking personal checks leave the competition all wet! Brutal environments shot in fast frame make these snapshots awe inspiring and adrenaline pumping! Get jacked about these wicked white water personal checks!...

---