Zodiac Check Designs at PersonalChecksUSA
Order Zodiac symbol personal checks online featuring all 12 astrological signs.
Select from astrological signs listed at left to view all styles available.
FEATURED STYLES:
Celestial Theme with Zodiac Signs
This four-image set depicts the sun and moon moving through the constellation filled heavens, as well as symbols of your astrological sign, all over beautiful blue backdrops. With these in your checkbook, you'll never need to "check" your horoscope. All 12 zodiac symbols are available in this style; select from menu at left to order them printed with your astrological sign.

---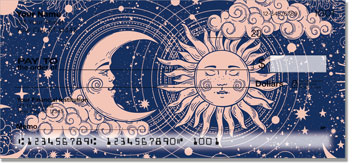 Astrology Checks
Astrology Personal Checks from CheckAdvantage feature four checks displaying different astrological signs against the backdrop of intricate patterns including a starry night sky.

---
Choose from menu at left to view check styles for all Zodiac signs.
---