Dancing Personal Checks
Order Dancing theme and other Sports and Hobbies bank check designs online in a variety of styles.
Matching labels and covers are also available to compliment most of these personal check designs.
---
Bailamos Personal Checks
Warm-toned silhouettes capture the passion and highlight the drama of latin dances....

---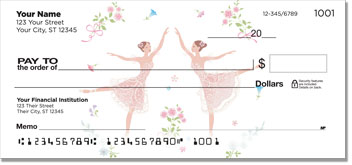 Ballerina Checks
...

---
Ballerinas Fabric Checkbook Cover
Stay organized and safeguard your checks with the Ballerinas Fabric Checkbook Cover designed to complement your Styles checks. This designer checkbook cover includes inside pockets to hold your checks check register and receipts in addition to multiple slots for your ID credit cards and photos....

---
Ballerinas Personal Checks
The life of a ballerina may be demanding, but they never let it show. Every move they make is full of grace and elegance. This series celebrates the dedication and talent of these dancers....

---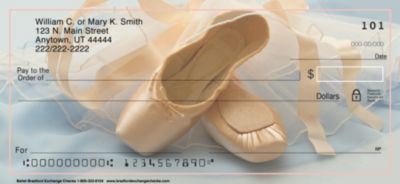 Ballet 4 Images
Ballet Checks Celebrate the Graceful Beauty of Dance! - Originating in Italy's 15th century, ballet has been celebrated as one of the most beloved performance dances for hundreds of years! Now, showcase the beauty of this elegant art form with these ballet checks from Bradford Exchange Checks. Four delicate images capture the essence of ballet with ballet shoes, dancing feet and ballerinas stretching on the bar.Plus, you'll find these ballet slippers checks are just as practical as they are pretty. Brought to you exclusively by Bradford Exchange Checks, they're expertly re-created with premium-quality check printing. Don't wait to celebrate your love for ballet with these ballet slippers personal checks. Order now! Pricing shown is for 2 boxes of Singles....

---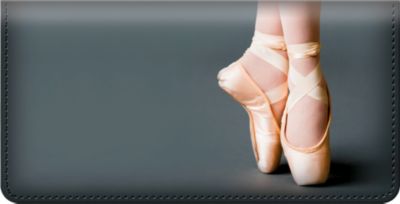 Ballet Checkbook Cover
Genuine Leather Ballet Checkbook Cover Shows Your Love for the Arts - Nothing tells a story without words better than the beloved art form of dance! Now, carry around your love for ballet with this genuine leather ballet slippers checkbook cover, custom designed to coordinate with our ballet personal check designs. This distinctive checkbook cover design showcases an elegant image of a ballerina's feet dancing en pointe against a grey background.This exclusive ballet checkbook cover is handcrafted of genuine, full-grain leather. High-quality features include premium nylon thread stitching, fabric lining, a clear duplicate check divider, slip-in personal check pocket, and a second pocket to hold cash or receipts. Don't wait to celebrate your love for dance - get your ballet checkbook cover from Bradford Exchange Checks as soon as possible! Order now!...

---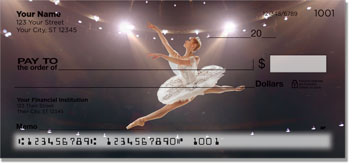 Ballet Checks
...

---
Ballet Slippers Personal Checks
Ballerina Personal Checks - These graceful ballerina bank checks show the beauty and delight that ballerinas share as they whisk through the stage. Share these captivating and alluring designs with every personal check you write out!...

---
Ballroom Dancer Silhouettes
Whimsical and stylistic, these artsy dancers......

---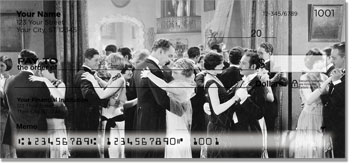 Ballroom Dancing Checks
...

---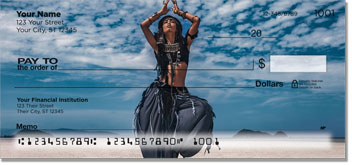 Belly Dancing Checks
...

---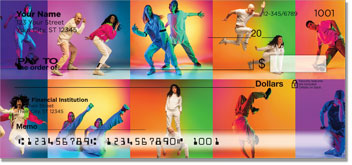 Break Dancing Checks
...

---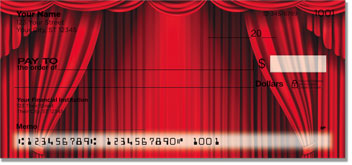 Center Stage Checks
...

---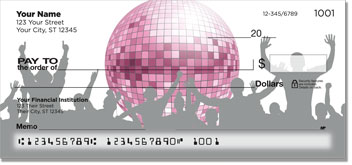 Dance Fever Checks
...

---
Dance First, Think Later Personal Checks
Dance First, Think Later Personal Checks - For the inner dancer in all of us! These whimsical checks will motivate you to dance more and think less often, a reminder we all need at times. The roaring 20's girl dancing in the middle of these personal checks will inspire you to dance every-time you see them! You will love the sassy comments:
Dance First Think Later!
Just Dance!
Live Life...Dance!
Dance Is My Life Deal With It!
...

---

Dance Step Checks

...

---

Grunge In Action Personal Checks

Grunge Dance Personal Checks - These urban dancers have all the right moves. The trendy style of grunge break dancing pops like graffiti against a grainy denim background. A perfect check for anyone that's into the grunge, hip-hop scene. ...

---

I Love Ballet Personal Checks

Ballet Personal Checks - Feel the movement in these four graceful ballet scenes! The ballerinas are bright and vibrant against the charcoal background. These personal checks will make you feel peaceful and elegant, and leave you anticipating the next time you get to fill one out! ...

---

Moon Walk Dance Tribute Personal Checks

Moon Walk Dance Tribute Personal Checks - Who today doesn't know what the moon walk is? This famous dance move deserves it's due, and you can help the moon walk hall of fame with this fun-loving personal check! Maybe do a little moon walking yourself!...

---

On My Toes Personal Checks

On My Toes Ballet Checks - Capture the graceful movements of ballet with these colorful ballet personal checks. The use of lines and color make this four check series of ballet checks a wonderful option for your checkbook!...

---

Party On Personal Checks

Party On Personal Checks - Let's get this party started! If you like to cut a rug with your friends, then don't let them forget it when you write out a check. Let a little bit of the beats come out when you open your checkbook and get everyone ready to P-A-R-T-Y!!!...

---

Passionate Spanish Dancer Personal Checks

Spanish Dancer Personal Checks - Did someone say Salsa? Salsa's roots are based on Cuban Son in the 1920's. However this dance style is constantly evolving and has gained much popularity, especially in the USA in recent years. There is probably no other dance like a salsa, with such passion, complexity and dynamic rhythm. Share the Salsa today with these fun and captivating designs!...

---

Ribbon Dancing Checks

...

---

Romantic Beach Ballet Personal Checks

Romantic Beach Ballet Personal Checks - This series of bank checks from Buy Cheap Checks is something out of a daydream. An attractive young couple dancing ballet in flowy, whimsical outfits in front of a beautiful golden sunset over the ocean. Bring fantasy to life when you carry these personal checks in your checkbook....

---

Salsa Dancing Checks

...

---

Steamy Tango Personal Checks

Steamy Tango Personal Checks - One of the steamiest dances is the tango. In this romantic two-step, the partners meld together and move as one, in a flirty lead and follow routine. The couple in this collection have got all the right moves for this groove. Their passionate dance is the centerpiece in the four dance themed illustrations in this series. Add some movement and spice to your wallet with these personal checks....

---

Swing Dancing Checks

...

---