PATRIOTIC and MILITARY PERSONAL CHECKS
Show your pride and support with every check you write! Order designer personal checks online featuring Patriotic and US Military Branch designs. Wide range of styles available including everything from American Flags and National Icons, to designs that show support for veterans and American soldiers.
Select from category list at left to view all styles available.
FEATURED STYLES:
Support Our Troops Yellow Ribbons Checks
Now more than ever our troops need us! These patriotic Patriotic and Military personal checks spread the word about how important it is to support our men and women overseas fighting for our freedom! These yellow ribbon personal checks celebrate just that. Go USA! ...

---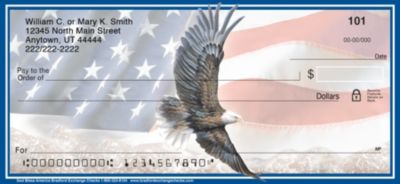 God Bless America Flying Eagle Checks
Bradford Exchange Checks introduces a patriotic personal check collection that dramatically unites two of the most revered symbols of our American virtues - the American bald eagle and the American flag. These two beloved images symbolize freedom and independence for every American. To see Old Glory waving in the wind... to see an American bald eagle soaring over purple mountains' majesty as envisioned by artist Larry K. Martin... is to fill every true American heart with great pride and patriotism.

---
Diane Knott's Americana Personal Checks
The rustic charm and patriotic touches of Diane Knott's artwork evokes the simple pleasures of country life.

---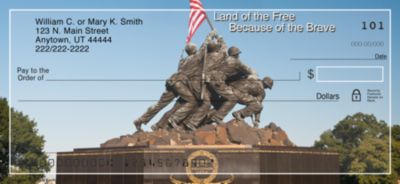 Honoring Our Veterans
Showcasing four patriotic designs, these inspirational checks feature the Iwo Jima Memorial with the saying Land of the Free Because of the Brave, American flags to remind us that We Will Never Forget, Freedom is Never Free with the World War II Memorial and the saying Honoring All Who Served with a Bronze Star Medal and a Purple Heart.

---