Soccer Personal Checks
Order Soccer theme and other Sports and Hobbies bank check designs online in a variety of styles.
Matching labels and covers are also available to compliment most of these personal check designs.
---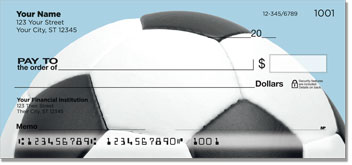 Classic Soccer Ball Checks
...

---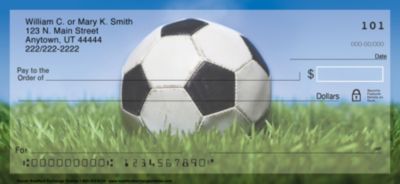 Soccer 4 Images
Soccer Checks Score a Winning Goal for Style - Played in over 200 countries, there's no doubt that soccer is the world's most popular sport! Celebrate your love of the game every time you use these soccer personal check designs from Bradford Exchange Checks. Four dynamic designs feature full-color images of a soccer ball on the field or in action.Plus, you'll find these soccer checks are just as practical as they are sporty. Brought to you exclusively by Bradford Exchange Checks, they're expertly re-created with premium-quality check printing. Don't wait make your love for soccer a special part of every day - order these soccer personal checks now! Pricing shown is for 2 boxes of Singles....

---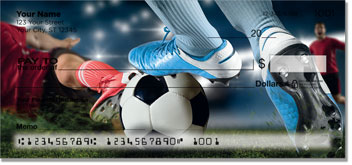 Soccer Checks
...

---
Soccer Daze Personal Checks
Soccer Daze Personal Checks - Created for the soccer fans and players of the world, these bank checks feature images from the famous game of football. Action shots of a soccer ball in play and a player kicking the ball make up four unique images in this set of sporty personal checks. ...

---
Soccer Player Personal Checks
Carousel Checks is pleased to offer one of the newest checks in our Sports series, Soccer Checks. These Soccer Checks have four rotating images guaranteed to have you score a goal every time you use these checks!...

---
Soccer Rockets
Soccer, or association football, is the most popular sport worldwide. The game is played by teams of 11 people seeking to score against each other in a series of 4 quarters. Get a peek at some fun foot action with Soccer Rockets Personal Checks....

---
Spain World Soccer Personal Checks
The ultimate soccer fan deserves the ultimate checks and accessories! Spain checks feature the flag of Spain draped over a soccer ball....

---
Sports Fanatic
These sports designs featuring football, basketball, hockey and soccer will appeal to fans of all ages....

---