SCENERY PERSONAL CHECKS
Order designer personal checks online featuring scenic designs. Wide range of styles available including photographs and paintings of landscapes, natural beauty, and tourist attractions.
Select from category list at left to view all styles available.
FEATURED STYLES: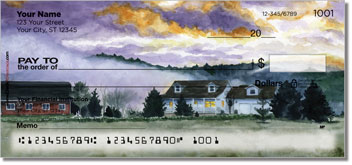 Meyer Scenic Checks
4 alternating images....

---
Sunset Sail Checks
These gorgeous checks will calm your senses and bring you to an amazingly calm and peaceful journey each time you write out a bank check!

---
Dramatic Waterfalls Checks
Magestic and powerful, waterfalls have captured man's imagination since the dawning of time. These beautiful scenes are just waiting for a chance to inspire your wallet! Take the plunge!

---
Scenic Reflections
Four changing displays each represent a tableau that is magnificent to behold and include rugged mountains in earth tones that reflect off a lake below, green meadows surrounding a lake that stands below tall hillsides, snow covered mountains reflecting back their spectacular setting and twin snow capped peaks reflecting beautifully in the serene waters below that are surrounded by forests.

---