Poker Personal Checks
Order Poker theme and other Sports and Hobbies bank check designs online in a variety of styles.
Matching labels and covers are also available to compliment most of these personal check designs.
---
Card Game Symbols Personal Checks
Card Game Symbols Checks - You have a winning hand when you have this beatiful four check series in your wallet! The symbols of hearts, clubs, diamonds and spades are known around the world, and have never been depicted so beautifully! ...

---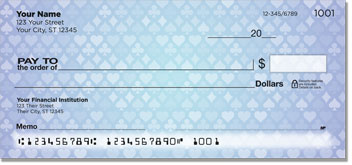 Card Suit Checks
...

---
It Is A Gamble Personal Checks
Gambling Personal Checks - You've got to know when to hold them, know when to roll them... If you're an expert of the game or just like to play, these funky designs are a fun reminder of gambling, winning and luck. If you don't feel lucky, then don't play!...

---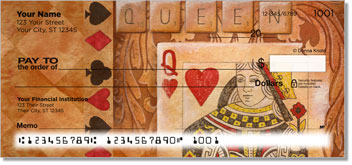 Knold Cards Checks
...

---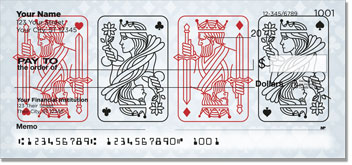 Playing Card Checks
...

---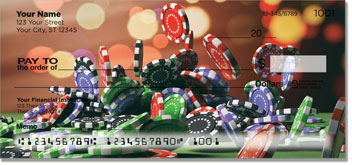 Poker Checks
...

---
Poker Dogs Checks
Cassius Marcellus Coolidge painted these memorable scenes in the late 19th century. A man of several talents his fortunes rose when he signed a contract with Brown and Bigelow who used his dog-genre painting on advertising posters calendars and prints. Mr. Coolidge's dogs poked fun at the lifestyles of the successful middle-class humans of his time. Art from the Archives of Brown and Bigelow. Product Description Singles Duplicates Checks per pad 25 20 Pads per box 5 5 Checks per box 125 100 What's Included FREE 20 Deposit Tickets and1 Transaction Register...

---
Poker Dogs Personal Checks - 4 images
What's Included Per Box: 5 Pads of Checks 20 Deposit Tickets 1 Transaction Register...

---
Poker Night Personal Checks
Ante up, it's Poker Night! Featuring some of the most popular hands in poker, this series is a must for every poker enthusiast. The coordinating checkbook cover features debossed suits accented in red and silver hologram foils....

---