OCCUPATIONAL CHECKS at PersonalChecksUSA
Let them know who you are and what you do with every check you write! Order personal checks online featuring images relating to your profession and you'll make a big impression every time you give somebody your business; you'll be the first one they think of when they need the services that you offer!
Select from list of professions at left to view all styles available.
FEATURED CHECK STYLES:
Heroic Firefighter Personal Checks
Firefighter Checks - Don't let these inspiring firefighter personal checks go up in smoke! Whether it's your profession, or you're simply a fan of some of our nation's unsung heroes, these painted renditions pay homage to our ever vigilant and always on call fire fighters....

---
Tools Of The Trade Wrenches Checks
Tools Checks - Every good handyman knows you should never leave home without your tools, which is exactly why we created these handy tool personal checks! Wrenches, sockets, ratchets... it's all here! Perfect for the handy person around the house, or the working professional!

---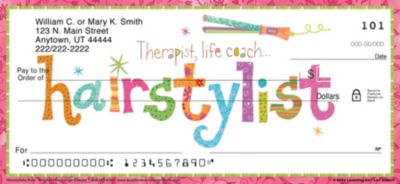 Hairstylists Rule Personal Checks! 4 Images
Four dynamic designs feature sassy sayings about being a hairdresser presented in the colorful visions of artist Lori Siebert.

---
Teachers Personal Checks
Inspiring minds and broadening horizons everyday. It´s a tall order, but teachers do it willingly. So give such a noble profession the recognition it deserves with a design devoted to teachers....

---