Family Checks at PersonalChecksUSA
Celebrate your close family ties with these charming and inspirational check designs.
Select from categories at left to view all styles available.
FEATURED STYLES: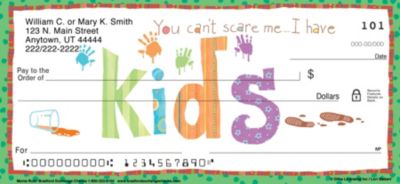 Raising Kids Rules! Checks
Celebrate the delight of motherhood with each mother and children humor design featured on these delightful personal checks! Four dynamic designs feature sassy sayings presented in the colorful visions of artist Lori Siebert. Designs include "You can't scare me; I have kids", "I can conquer anything; I am a Mom!", "Who are these crazy kids and why are they following me?" and "Raising children. It's not a job. It's an adventure."

---
Crayon Cutie Checks
Select up to 5 customizable characters that represent you and your family.

---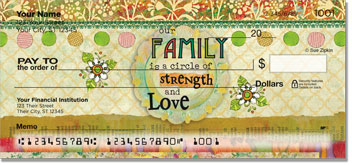 Friends and Family Checks
...

---
Mother And Child Checks
These delightful images capture the sincere and true love between a Mom and her child. Share this love in every check you write and be reminded of the beauty of a Mother's love and a child's love back....

---