Scrapbooking Personal Checks
Order Scrapbooking theme and other Sports and Hobbies bank check designs online in a variety of styles.
Matching labels and covers are also available to compliment most of these personal check designs.
---
A Stitch In Time Personal Checks
Sewing Personal Checks - These personal checks get right to the (needle)point. Perfect for the professional seamstress or the hobby sewer, the bright blue border and perfect white stitches make simple but eye-catching statement about what you love...

---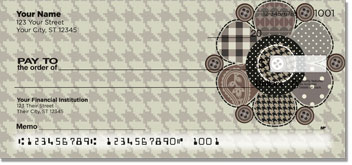 Button Flower Checks
...

---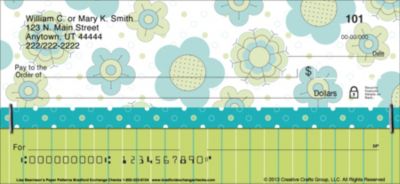 Lisa Bearnson's Paper Patterns
Lisa Bearnson Checks Bring All the Fun of Scrapbooking to Every Check You Write! - Make every day memorable with Lisa Bearnson's Paper Patterns scrapbook lover checks! Available exclusively from Bradford Exchange Checks, these four cheerful designs are inspired by the delightful scrapbook papers of scrapbooking expert Lisa Bearnson. Each design is brought to life in fresh shades of blue, green and white, and features a charming mix of contemporary floral patterns, stripes and pretty polka dots. And look, these Lisa Bearnson checks even feature classic scrapbooking motifs designed to look like ribbons, stitching, layering and more. Stylish and charming, they make every check you write a memorable delight!You'll find the Lisa Bearnson's Paper Patterns scrapbook paper design checks are just as practical as they are pretty too. Available exclusively from Bradford Exchange Checks, they are expertly re-created with premium-quality check printing. Don't let another moment go by - order checks online and start enjoying your Lisa Bearnson's Paper Patterns checks as soon as possible. Order now! Pricing shown is for 2 boxes of Singles....

---
Scrapbook Checks
Get in touch with your crafty side with the Scrapbook Checks from Designs by Shan. This 4-scene design features whimsical scrapbook icons and a burst of colorful charm. Matching address labels and a checkbook cover also available. Take your love of scrapbooking everywhere you go and order your Scrapbook personal checks today! Designs by Shan Product Description Singles Duplicates Checks per pad 25 20 Pads per box 5 5 Checks per box 125 100 What's Included FREE 20 Deposit Tickets and1 Transaction Register...

---
Scrappin Personal Checks
The enjoyment you get from creating albums that accent your special photo memories is captured on these checks and accessories. So even when you're not scrapbooking, you can express how much you love this pastime....

---
Vintage Scrapbook Personal Checks
Vintage Scrapbook Personal Checks - Vintage fabrics with a modern touch combine to create this unique personal check series. With the feel of a scrapbook, these unusual and artful checks are a perfect addition to any wallet!...

---