FLOWER PERSONAL CHECKS
Order designer personal checks online featuring floral designs. Wide range of styles available including photographs and paintings of flowers, gardens, desert plants, and other flora.
Select from category list at left to view all styles available.
FEATURED CHECK STYLES: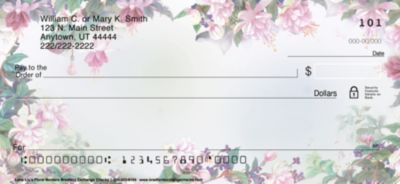 Lena Liu Floral Border Checks
A bouquet of four exclusive personal check designs encircled with Lena Liu's lush gardens. The delicate colorations and graceful nuances entice you to daydream and refresh your senses. Surround yourself every day with elegant pink fuschia, celestial blue morning glories, sumptuous orchids, and dainty lilacs with creamy white roses. Carry these exclusive Lena Liu floral art designer personal checks with you and let your imagination blissfully wander amid the soft, misty beauty of Lena Liu's floral gardens in lush, glorious bloom.

---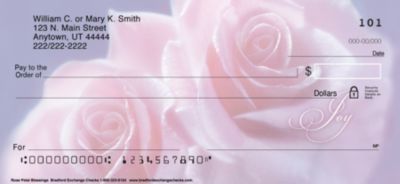 Rose Petal Blessings
Each of four rose petal check designs bursts with the breathtaking beauty of artist Collin Bogle's remarkably photorealistic rose paintings. The play of vibrant light against tranquil shadow combined with an elegant palette of soft creams, white, pinks, purples and yellows provides a perfect backdrop to the gracefully inscribed words, Happiness, Peace, Hope and Joy. These lovely and inspirational personal checks make every check you write a masterpiece of good wishes!

---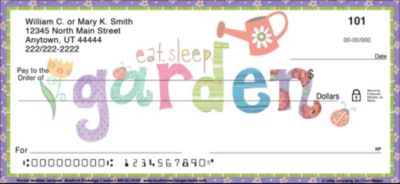 Worlds Greatest Gardener 4 Images
Designs include World's Greatest Gardener , I like to play in the dirt , Life's a garden, dig it and Eat. Sleep. Garden. Don't miss this opportunity to show off your green thumb with these Lori Siebert art checks!

---
Blue Ferns
These cool toned abstract personal checks are a great way to add a little contemporary to the blandness of the daily grind. These fun fern checks are professionally drawn and rendered in vibrant color.

---