FOOD and DRINK THEME PERSONAL CHECKS
Spread some tasty love with every check you write! Order personal checks online featuring mouthwatering images of your favorite foods and drinks. From meats to treats, from coffee and tea to beer and wine, we've got the perfect check design to suit anybody's "taste".
Select from categories at left to view all styles available.
FEATURED FOOD AND DRINK STYLES:
Baker Chick Personal Checks
Baker Chick Personal Checks - We've whipped up a few delightfully delicious checks for anyone who loves to bake and has a sense of humor! You will love the cherry, chocolate and lemon flavors as well as the humor that is featured on each check in this irrestible three check series!* Baker Chick* Cupcake Snob* Treat Yo' Self...

---
Vintage Coffee, Tea Or Me Personal Checks
Take a break and relax with one of delicious vintage coffees and teas! These checks are sure to bring us back to a time when we took more space to relax and to do what is important in this world.

---
Sinful Ice Cream Sundaes Checks
Indulge yourself with these delicious ice cream sundae personal checks! Four sinful sundaes to make your mouth water, your favorite dishes are never far away with these sweet tooth personal checks. Huge ice cream treats, and no calories!

---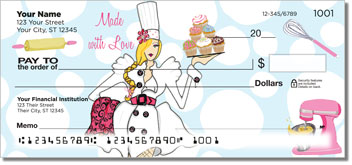 Made With Love Checks
...

---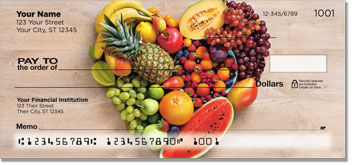 I Love Food Checks
...

---
Choose from category menu at left to view all Food and Drinks check styles.
---