Running Personal Checks
Order Running theme and other Sports and Hobbies bank check designs online in a variety of styles.
Matching labels and covers are also available to compliment most of these personal check designs.
---
High Speed Personal Checks
High Speed Personal Checks - in the hustle and bustle of this busy world we live in, what better way to capture it than with these personal bank checks featuring an abstract man traveling at the speed of light! Sometimes it's hard to slow down and appreciate the little things, but these personal bank checks are definitely something for you and everyone who come across them to enjoy! ...

---
In The Long Run Personal Checks
In The Long Run Personal Checks - This series of bank checks from Buy Cheap Checks was made for lovers of the sport of running. Whether you run for fun, exercise, competition or all three - represent your passion by carrying these sporty checks in your checkbook....

---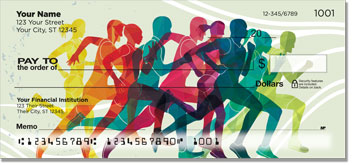 Joy of Running Checks
...

---
Marathon Runners Checks
Keep Up The Pace Checks - Out for a jog or just wrapping up a triathalon? Featuring multicolored athletes just about reaching the finish line. Just make sure your laces are ties....

---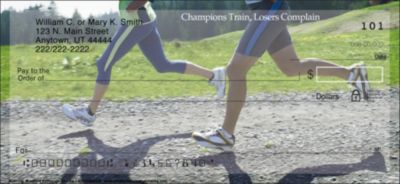 Running 4 Images
Running Checks Show Your Flair for Fitness! - For centuries running has been considered one of the most rewarding exercises you can do! Now, show your love for running even when you're not doing it with these runner checks from Bradford Exchange Checks! Four dynamic designs feature full-color imagery of either running shoes, a single runner, a group of runners or a pair of runners - perfectly capturing the freeing essence of the activity.Plus, you'll find these runner personal checks are just as practical as they are powerful. Brought to you exclusively by Bradford Exchange Checks, they're expertly re-created with premium-quality check printing. Don't wait to celebrate your flair for fitness- get your running personal checks as soon as possible! Order now! Pricing shown is for 2 boxes of Singles....

---
Running Blues Personal Checks
Running Personal Checks - No distance is too great for you. These colorful illustrated personal bank checks show you are serious about your health and exercise. Long distance, short distance, even marathons are no match for you. Show others that you are willing to go the distance with these personal bank checks....

---
The Finish Line Personal Checks
The Finish Line Personal Checks - Winning isn't everything, it's the only thing; and you'll find these personal bank checks are winners for sure! Depicting a runner racing speedily for first place and a golden victor celebrating his success in front of a red checkered flag, this four series set runs laps around all the others. No need to exercise caution when purchasing these personal bank checks, they're perfect for you! ...

---
Track Baton Hurdles
Get a feel for the athleticism with these Track Baton Hurdles Personal Checks. These runners can really jump those hurdles....

---
Victory Personal Checks
Victory Personal Checks - This set of personal bank checks is a real winner! Featuring the first place finish of a race over a stylized blue, red and gold background, you'll be running for your pocketbook to get these. Any runner, casual or competitive, will find these to be perfectly fit for their checkbook. ...

---