CHRISTIAN CHECKS at PersonalChecksUSA
Spread the word and share your faith with every check you write! Order Christian theme personal checks online in a variety of styles. Designs include Christian Religious Symbols, Scenery with Bible Quotes, Words of Faith, and more.
Select from list of check themes at left to view all styles available.
FEATURED CHECK STYLES:
Thy Name Personal Checks
Renew your spiritual connection and celebrate the glory of God with these illuminating designs....

---
Laughter for the Soul Checks
Lift your spirits and share a smile with Laughter For The Soul a light-hearted look at joyful blessings and inspirations that will touch your heart and tickle your funny bone. Product Concepts Mfg. Inc. Product Description Singles Duplicates Checks per pad 25 20 Pads per box 5 5 Checks per box 125 100 What's Included FREE 20 Deposit Tickets and1 Transaction Register...

---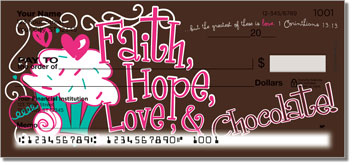 Faithful Girl Checks
...

---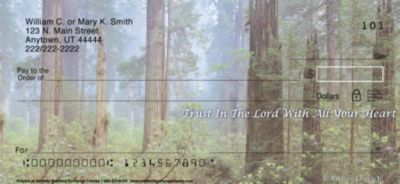 Prayers of Serenity 4 Images
Three different designs feature thoughtful sentiments and stunning images by renowned photographer Rodney Lough, Jr., each a testament to the glories of creation and the peace that comes when you trust in a higher power. Wander through a pristine forest and Trust In The Lord With All Your Heart ; drink in the majestic power of a far mountain range and know that All Things Are Possible With God ; and allow the stark wonders of a desert geyser to reassure you that This Is The Day That The Lord Has Made.

---
Original Scripture Personal Checks
This watercolor series features popular verses of Christian encouragement....

---
<<< Select from category menu at top left to view all Christian checks designs available.
---