RELIGION DESIGNS at PersonalChecksUSA
Order Religion theme personal checks online and share your faith with every check you write! Check designs include several of the world's religions including everything from Rastafarian and Mormon to Judaism, Islam, and Buddhism.
Select from list of religions at left to view all styles available.
FEATURED CHECK STYLES: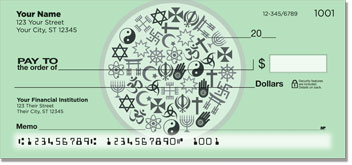 World Religion Checks
World Religion Personal Checks feature four unique designs that contain important symbols of all the major religions. They'll remind you to respect what others believe, and to lean on your own faith.

---
Star Of David Personal Checks
Overlaying the Star are the Stone Tablets, on which the Ten Commandments appeared, as described in the Torah. Celebrate your faith and one of the world's oldest religions with this spiritual personal check series....

---
Influence of India Checks
Try out some Eastern flair with our Influences of India Personal Checks featuring deities of India including Krishna, Shiva, Durga, and Ganesha. Available in single and duplicate check format. Matching address labels and a coordinating checkbook cover are also available....

---
Choose from menu at left to view all religion check styles.
---