Darts Personal Checks
Order Darts theme and other Sports and Hobbies bank check designs online in a variety of styles.
Matching labels and covers are also available to compliment most of these personal check designs.
---
Dartboards
Darts Personal Checks will make you want to go play a game of darts or practice your aim. These checks showcase pictures of the dart board and darts used to play. No one knows where darts originated but some theorize that soldiers came up with it by throwing short arrows at the bottom of wine casks. That is one way to improve your aim! It has evolved into a worldwide game with standard boards and rules as well as competitions....

---
Darts And Pool Personal Checks
Game Checks - Darts and Billiards are long-time favorites when it comes to party games! Why not extend the challenge and have a little fun with each check you write. All you risk is a little fun and games!...

---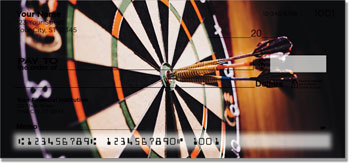 Darts Checks
...

---