SPORTS TEAM CHECKS
Order personal checks online featuring your favorite college and professional sports teams. Wide range of designs including NCAA/Collegiate, MLB Baseball, NHL Hockey, and World Soccer Teams.
Select from list of schools and sports leagues at left to view all styles available.
Also see our Sports and Hobbies section for more sports theme check styles.
FEATURED CHECK STYLES:
LSU #1 Fan Checks
The Louisiana State University #1 Fan check design is for the game-day superstition followers talk-to-the-TV coaches rant-and-rave-throw-the-remote cheerleaders truest of true college sports fans....

---
Yankees Catch the Bug Checks!
Perfect for a loyal New York Yankees fan, these checks feature team logos, colors, and an image of a sporty lady bug whose dots are Yankees logos! Plus, the sentiment Catch the Bug! perfectly captures how thrilling it is to be a Yankees fan.

---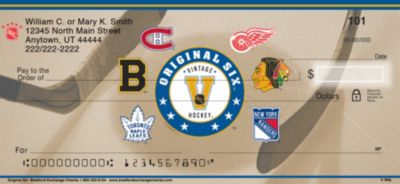 Original 6 NHL Teams Personal Checks
Keep the moment alive with the thrill of an NHL victory when you use these original six checks from Bradford Exchange Checks. Showcasing the nostalgic excitement of the sport, four different designs feature the original six NHL team logos over vintage-style photographs of hockey players, sticks and pucks.

---