Monopoly Personal Checks
Order Monopoly theme and other Sports and Hobbies bank check designs online in a variety of styles.
Matching labels and covers are also available to compliment most of these personal check designs.
---
Monopoly Personal Checks
Monopoly Personal Checks - Whether you have a love for the game or are a big time mogul, trump your old checks with these playful Monopoly Personal Check designs! And every time you open your checkbook, take that chance, pass Go, and buy another hotel. You have to play to win!...

---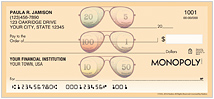 Vintage Monopoly Checks
Your favorite family board game comes to life in these Vintage Monopoly Checks. The 4-scene check design features Monopoly money your favorite Monopoly game pieces and of course Rich Uncle Pennybags who is Always Hustlin'. Delightfully fun and full of vintage charm these personal checks are perfect for anyone. Matching labels and checkbook cover are also available. Order your Vintage Monopoly checks today! 1935 2016 Hasbro. All Rights Reserved. Licensed by Hasbro. Product Description Singles Duplicates Checks per pad 25 20 Pads per box 5 5 Checks per box 125 100 What's Included FREE 20 Deposit Tickets and1 Transaction Register...

---