Snowboarding Personal Checks
Order Snowboarding theme and other Sports and Hobbies bank check designs online in a variety of styles.
Matching labels and covers are also available to compliment most of these personal check designs.
---
Extreme Jumps Personal Checks
Extreme Snowboarding Checks - Ready for a little adrenaline? Jump off without looking into these professional snowboarding personal checks! Photographed in the heat of the action, dive into some fresh powdery mountains and get some!...

---
Flying High Personal Checks
Flying High Snowboarding Personal Checks - These personal snowboarding checks will have you dreaming of parks, pipes, and fresh powder days....

---
Riding On Air Checks
Riding on Air Checks- Got air? These snowboarders do! Four photographs of high fliers make these personal checks a fun addition to your checkbook. Especially if you live in a snowy area, it could be a way for you to re-appreciate the winter....

---
Sick Snowboarder Personal Checks
Sick Snowboarder Personal Checks - Harness the power and speed of this sick snowboarder every time you open up your checkbook. This guy isn't slowing down and he is sure to fly with every Sick Snowboarder Personal Check you hand out. ...

---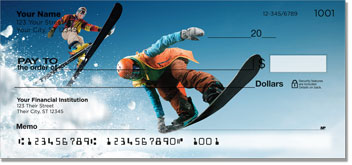 Ski & Snowboard Checks
...

---
Snow Sports 4 Images
Tackle the Slopes with These Exciting Winter Checks! - Your next snow-filled adventure waits among the glistening hills and powdered mountaintops. Now, show off your passion for winter sports when you use these skiing checks from Bradford Exchange Checks. Four different designs feature action-packed scenes with one of these fantastic sayings, Skiing is a dance, and the mountain always leads , Know your limit, then ski beyond it! , Carpe skiem! , or Snowboarding is not a sport, Its a lifestyle .Plus, you'll find these skiing personal checks are just as practical as they are thrilling. Brought to you exclusively by Bradford Exchange Checks, they're expertly re-created with premium-quality check printing. Don't miss this opportunity to conquer the run - get your snow sports art checks as soon as possible! Order now! Pricing shown is for 2 boxes of Singles....

---
Snowboarding Action
The wonders of winter sports are displayed well in these Snowboarding Personal Checks that capture the spirit of fun and adventure that awaits you with this action packed sport. Four magnificent pictures of snowboarders enjoying the snowy landscape of winter showcase their colorful gear against the backdrop of a blue sky and splendor of white snow that is flying through the air with them as they explore the horizons of the fresh white powder. You can make the chore of check writing more fun with these Snowboarding Personal Checks that will brighten your day and those to whom the checks are written....

---
Winter On The Board Personal Checks
Snowboarding Checks - Get some air with these awesome winter snowboard personal checks! These slopes and the park are never far away with this fun, seasonal mountain boarding personal check series. Come to where the snow is always fresh and the park is never packed! ...

---