Bicycling Personal Checks
Order Bicycling theme and other Sports and Hobbies bank check designs online in a variety of styles.
Matching labels and covers are also available to compliment most of these personal check designs.
---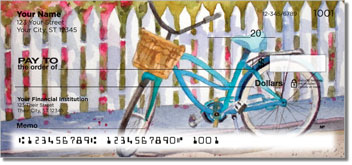 Bicycle Art Checks
...

---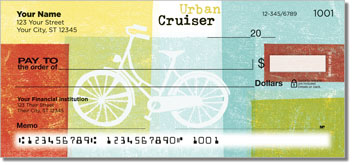 Bike Art Checks
...

---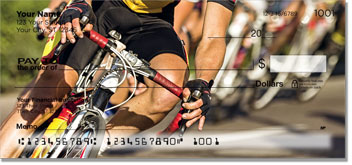 Bike Racing Checks
...

---
Biker Girls
Biker Girls Personal Checks feature bike riding silhouettes against pink and blue city skylines. Remind yourself to get some exercise in with our Biker Girls Personal Checks- they even remembered the water bottle, a must have for any exercise!...

---
Biker Madness Personal Checks
Biker Madness Personal Checks - If biking is your passion, then these biking images are for you! Silhouettes of bikers in golden hues are a striking contrast to the white biker silhouette. Race to get these hot biking checks into your wallet!...

---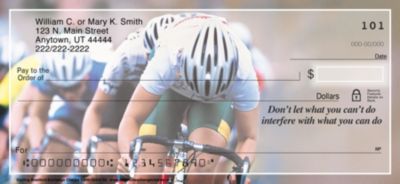 Cycling 4 Scenes
Own the Race with these Exciting Cycling Checks! - Increasing the intensity of your pedal strokes, you shift gears and begin to pick up speed as you imagine the finish line where the glory of your next victory awaits! Now, imagine the thrill of the race when you use these cyclist checks from Bradford Exchange Checks. Showcasing the excitement of the sport, four different designs feature athletes competing in a cycling race along with inspirational quotes that say, Losers quit when they are tired, winners quit when they've won , The finish line is just the beginning of a whole new race , Don't let what you can't do interfere with what you can do and Winners don't wait for a chance, they take them .Plus, you'll find these cyclist personal checks are just as practical as they are inspiring. Brought to you exclusively by Bradford Exchange Checks, they're expertly re-created with premium-quality check printing. Don't let this opportunity pass you by - get your cycling checks as soon as possible! Order now! Pricing shown is for 2 boxes of Singles....

---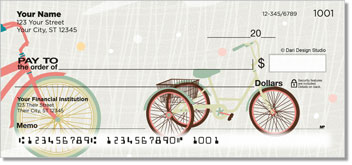 Fun Bike Checks
...

---
Mountain Bike
Take a look at some fast action in out Mountain Bike Personal Checks. Mountain biking is a popular sport where the bikes are sturdy and able to handle the rigors of the trails and jumps. The bikes can be classified based on the type of suspension that they use. This is a fun and active sport that can be indulges alone or with friends....

---
Summer Biking Personal Checks
Summer Biking Personal Checks - This magical scene in this check will whisk you away to a peaceful green place where all is right in the world. Bike away to a luscious green park each time you open your checkbook with these lovely Summer Biking Personal Checks!...

---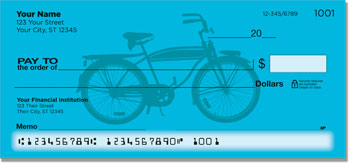 Classic Bicycle Checks
...

---
Touring France Personal Checks
Touring France Personal Checks - This cute series of personal checks is for the world travelers. An adorably illustrated image of a female tourist flying through Paris on a bicycle is the focus of this set. Share your internal travel bug when you carry these unique bank checks from Buy Cheap Checks. ...

---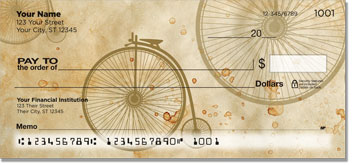 Vintage Bicycle Checks
...

---