INSPIRATIONAL CHECKS at PersonalChecksUSA
Spread hope and good vibes with every check you write! Order personal checks online with inspirational themes and uplifting messages.
Select from list of check themes at left to view all inspirational styles available.
FEATURED CHECK STYLES: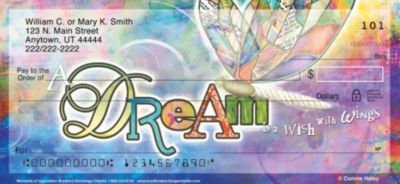 Moments of Inspiration
Share Nature's Uplifting Beauty - Show the world you have the courage to dream with this rainbow of inspirational personal checks from Bradford Exchange Checks. Featuring jewel-toned designs by artist Connie Haley, each check is a vibrant splash of color that showcases a delightful soaring creature and an inspirational message. Four gorgeous designs include a ladybug and the phrase To be Fearless is to be Free, a butterfly with the words, Rise Above, a bird with, It Takes Courage to Fly, and a dragonfly with A Dream is a Wish with Wings.

---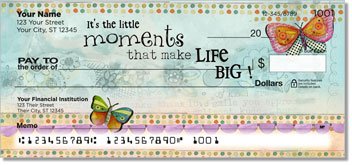 Joyful Inspiration Checks
4 alternating images by artist Sue Zipkin.

---