Scuba Diving Personal Checks
Order Scuba Diving theme and other Sports and Hobbies bank check designs online in a variety of styles.
Matching labels and covers are also available to compliment most of these personal check designs.
---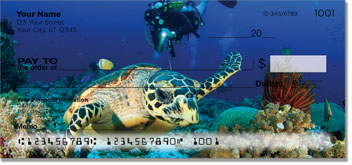 Scuba Diving Checks
...

---
Scuba Diving Enthusiasts Personal Checks
Scuba Diving Personal Checks - Dive to the deep with these underwater adventure personal checks. Each image was professionally designed to showcase the wonders of the blue ocean. Bring you tank and harpoon and take a swim with the fishes in this recreational sequence....

---
Scuba Personal Checks
Explore our Scuba design, which takes you below the water's surface to the mesmerizing world of vibrantly colored sea life and their delicate aquatic environment....

---
Snorkel Queen Personal Checks
Snorkel Personal Checks - The worlds greatest reefs are no match for you. Diving to catch a glimpse of underwater life is a favorite pastime. These colorful artistic personal bank checks will have you diving for your checkbook to take another look!...

---