Billiards Personal Checks
Order Billiards theme and other Sports and Hobbies bank check designs online in a variety of styles.
Matching labels and covers are also available to compliment most of these personal check designs.
---
Billiard Balls On The Felt
For the billiards lover, Billiard Personal Checks are the ideal choice. With four high quality images on borderless checks, it is easy to reflect upon the strategy, the fun, the suspense, and the glory that comes with a game of billiards.When using Billiard Personal Checks to pay the bills, you are simply brought closer to the game. Colorful close-ups of the billiard balls and angles that can be achieved by only the best photography make these checks very happy, but fantastic for the serious billiards player or spectator. Billiard checks are simply unique and they are affordable for the quality....

---
Billiard Tables Personal Checks
Billiard Pool Table Personal Checks - Get ready to rack 'em up with these personal checks! The billiards inspired illustrations feature a pool table as the focal point, complete with the distinctive green felt. The series is perfect for casual players and pool sharks alike....

---
Billiards Asian Style Personal Checks
Billiards Personal Checks - If you're a billiards fan than these are the personal checks for you! The playful design, and cultural references on the balls will give any pool playing enthusiast an ethnic twist on an old favorite. ...

---
Darts And Pool Personal Checks
Game Checks - Darts and Billiards are long-time favorites when it comes to party games! Why not extend the challenge and have a little fun with each check you write. All you risk is a little fun and games!...

---
Let's Play Pool
Hobbies - Let's Play Pool Personal Checks - Images from a colorful game of pool are the focus of this series of bank checks. You'll want to grab your cue and head to your favorite billiard hall every time you write a personal check. Share the love of your favorite game with billiards checks from Buy Cheap Checks.
Matching address labels and coordinating accessories available. Deposit slips a personal check register are provided with each order of personal checks. Please note: Check images on this site are brightened to make viewing easier; however, the actual printed check is printed to meet US banking requirements and will be lighter than shown....

---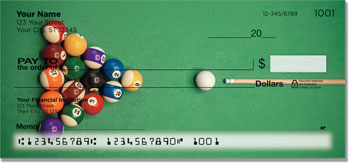 Pool Shark Checks
...

---
Pool Table Magic Personal Checks
Pool Table Magic Billiards Personal Checks - Chalk your stick and rack 'em up! For the casual player to the pool shark, this four illustration series has everything you need for a great game of billiards. The lifelike drawings are featured on four colorful backgrounds. You'll be hitting the side and corner pockets in no time with this pool inspired design...

---
Rack em up Billiards
Cue sport players will love these Rack em up Billiards Personal Checks featuring colorful billiard balls and tables. The major games to play are Straight Rail or Straight Billiards, Balkline, Three-Cushion Billiards, English Billiards, Snooker, Eight-ball, Nine-ball,, Three-ball, One-pocket, and Bank pool. With all these variations and more, there is plenty of fun and entertainment to go around!...

---
Shiny Billiard Balls Up Close Personal Checks
Billard Balls Personal Checks - If pool is your passion, then these checks are for you. Each of the four checks designs in this series has a different configuration of billard balls. Put these Billard Ball Checks in your pocket and rack up some fun!...

---