Skiing Personal Checks
Order Skiing theme and other Sports and Hobbies bank check designs online in a variety of styles.
Matching labels and covers are also available to compliment most of these personal check designs.
---
Ascending To Summits Checks
Alpine Skiing Checks - Ascend to the summit with these mountain sport inspired personal checks. A series of four vista filled images glide across the pages of this breathtaking book. From the first mountain sun to the mist of the evening, each image captures the true love for the mountain. Take that passion and feeling with you in your checkbook....

---
Breathtaking Trails Personal Checks
Cross Country Skiing Checks - Have you explored lately? Head into the wilderness with these winter skiing personal checks! These quiet, seasonal nature checks celebrate the joys of the great outdoors!...

---
Creating Paths Personal Checks
Winter Skiing Checks - These crazy photos are an exciting way to add extreme sports into your personal checks! These guys look like their having a great time skiing down the slopes in these professional photographs. Remind yourself of your fun runs with these winter skiing checks!...

---
Extreme Precision Checks
Extreme Skiing Checks - Get some airtime with these extreme skiing personal checks! Professionally photographed professionals busting big air in four different check scenes. Share the spirit of winter this season with these killer designs....

---
Grooming The Snow Checks
Grooming the Snow Checks- Go back to your favorite ski hill, even in the summer. Four images that are common at any winter resort make these personal checks a delight. Don't forget to relax with a mug of hot cocoa at the end of your day!...

---
On The Slopes Personal Checks
Slopes Skiing Personal Checks - Artfully depicted big mountain fun. Sunny skies, fresh powder, and fresh turns are what skiers dreams are made of. The winter season will never end with these extreme personal bank checks in your checkbook....

---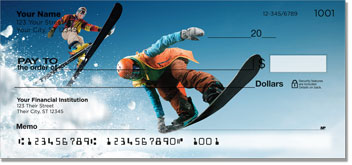 Ski & Snowboard Checks
...

---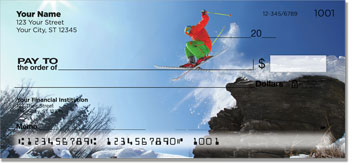 Ski Jumper Checks
...

---
Ski Jumps
Freestyle Skiing Checks - There's always fresh powder in these extreme freestyle skiing personal checks! Take to the slopes and feel free to daydream over these fun ski personal check designs of professionals, photographed by professionals. Big air, wicked stunts, and no wipes!...

---
Skiing On A Golden Mountain Checks
Skiing on a Golden Mountain Checks- Personal checks that are more extreme than the bunny hill. These four photographs show why skiers love it when it snows! All you will need is a cup of hot cocoa when you get back to the resort...

---
Snow Sports 4 Images
Tackle the Slopes with These Exciting Winter Checks! - Your next snow-filled adventure waits among the glistening hills and powdered mountaintops. Now, show off your passion for winter sports when you use these skiing checks from Bradford Exchange Checks. Four different designs feature action-packed scenes with one of these fantastic sayings, Skiing is a dance, and the mountain always leads , Know your limit, then ski beyond it! , Carpe skiem! , or Snowboarding is not a sport, Its a lifestyle .Plus, you'll find these skiing personal checks are just as practical as they are thrilling. Brought to you exclusively by Bradford Exchange Checks, they're expertly re-created with premium-quality check printing. Don't miss this opportunity to conquer the run - get your snow sports art checks as soon as possible! Order now! Pricing shown is for 2 boxes of Singles....

---