Physical Fitness Personal Checks
Order Physical Fitness theme and other Sports and Hobbies bank check designs online in a variety of styles.
Matching labels and covers are also available to compliment most of these personal check designs.
---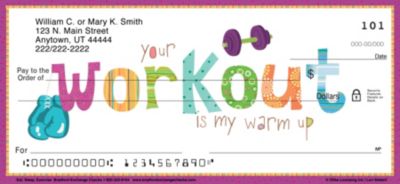 Eat Sleep Exercise 4 Images
Fitness Checks Show that Exercise is a Way of Life - Anyone who loves to stay fit knows that a good workout is just as much mental as it is physical. Now, share your passion for exercise every time you use these workout checks from Bradford Exchange Checks. Showcasing the colorful artwork of Lori Siebert, four vibrant designs feature a unique image paired with one of four fun sayings that include eat. sleep. exercise. , your workout is my warm up , fitness is my way of life and be stronger than your excuses . Each check has a vibrant border with tiny polka dots and stripes.Plus, you'll find these workout personal checks are just as practical as they are motivating. Brought to you exclusively by Bradford Exchange Checks, they're expertly re-created with premium-quality check printing. Don't miss this opportunity to feel fabulous with Lori Siebert art checks! Order now! Pricing shown is for 2 boxes of Singles....

---
Fitness Flavors Personal Checks
Fitness Checks - Get in shape and put your wallet into good shape too with these fun, colorful fitness checks! These checks are guaranteed to remind you of the importance of balance, fitness, and stretching your money... ...

---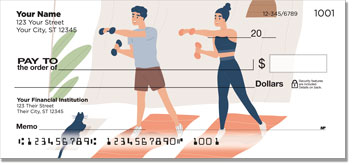 Staying Fit Checks
...

---