AWARENESS CHECKS at PersonalChecksUSA
Spread awareness and show your support with every check you write! Order personal checks online with designs promoting your favored social cause or awareness campaign.
Select from list of check themes at left to view all styles available.
*9-11/World Trade Center commemorative checks are in our Patriotic and Military section.
FEATURED CHECK STYLES:
MiCheck Awareness Ribbons
Allows you to compile a collection of images containing support ribbons for various illnesses and causes....

---
Environmental Awareness "Go Green" Checks
Show your support for saving the environment with Environmental Awareness Personal Checks. These checks feature key phrases to go green and recycle to help save our environment. As always, these checks are available at our everyday low prices....

---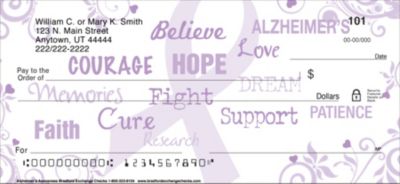 Alzheimers Awareness Ribbons Personal Checks
Put on your purple ribbon and show your support for those with Alzheimer's disease with every check you write. These exclusive Alzheimer's support checks from Bradford Exchange Checks make a statement of strength, courage, and hope. Four custom designs feature purple and white designs with inspiring words to spread hope and awareness.

---
Gay Pride Personal Checks
Show your support for the gay community with your personal check choice. These colorful check designs showcase the rainbow color on the ribbon and background on the check and borders. With every check you write out, show the world that equal rights and freedom for all is our choice and something that we can have if we come together as a country!...

---