Ladybug Personal Checks
Order Ladybug theme and other bank check designs online in a variety of styles.
Matching labels and covers are also available to compliment most of these personal check designs.
---
The Doodlebug Blues
The Doodlebug Blues Personal Checks feature illustrations of a ladybug on a blue background. Ladybugs are symbols of good luck or good fortune in many parts of the world. There is also a tie to religion and the Virgin Mary in many cultures in relation to the ladybugs name....

---
Silver Skies Checks
Cloud Checks - Who says overcast leads to gloomy moods? These stylish sky personal checks are the perfect backdrop to every day occurrences. Professionally photographed, these checks capture some of the most beautiful scenes in our ever changing overhead canvas!...

---
Shabby Chic With Ladybug Personal Checks
Shabby Chic With Ladybug Personal Checks - These bright and cheery ladybug checks are sure to catch everyone's eye and get a giant Summertime smile no matter what season. You can almost feel the warmth and happiness as these beautiful ladybugs explore the shabby chic summertime outdoors!...

---
On Top Of My World Personal Checks
Ladybug Personal Checks - These darling contemporary bank checks are so captivating and fun. This little ladybug is set to explore on curly cued leaves and dazzling flowers and she is enjoying the journey. If you like the journey of life and have a windy road ahead like this little bug, then you can probably relate!...

---
Many Paths Personal Checks
Ladybuy Personal Checks - These mystical springtime checks feature a colorful ladybuy making her way long the many paths on the spring vines. Leaves and flowers and swirled vines create an interesting "world" for this inspiring ladybuy personal check series....

---
Lucky Ladybug Fairy Personal Checks
Lucky Ladybug Fairy Personal Checks - Harness the power and good fortune of lucky ladybugs with these one-of-a-kind Lucky Ladybug Fairy Personal Checks! These fun and cheerful checks are sure to bring a smile and warm the hearts of everyone they meet, so share them with every check you write out!...

---
Lovely Ladybugs Personal Checks
Lovely Ladybugs Personal Checks - Capture a little of nature with these delightful ladybug checks. These ladybugs remind us that beauty and happiness lie everywhere and we just need to find it. Share these Lovely Ladybugs Personal Checks with every check you write!...

---
Ladybugs Personal Checks
Decorating flower blossoms and leaves, ladybugs brighten up your garden and your checks. This design is available in single and duplicate check formats....

---
Ladybugs on Leaves Checks
Red with spots......

---
Ladybugs on Flowers
Ladybugs on Flowers Personal Checks feature 4 close ups of these delightfully lucky ladybugs as they explore their floral habitats. Ladybugs are a type of beetle and scientist use the terms ladybird beetles or lady beetles instead. In other parts of the world they are known as the ladybird, ladyclock, lady cow, and lady fly....

---
Ladybugs For All Seasons Personal Checks
Ladybug Checks - These cutie bugs will be just the thing to add a big spash of color to your personal checks. Each design is precisely and artful colored to match all four seasons. Get these crazy bugs on your checks today!...

---
Ladybugs Close and Personal
Ladybugs Close and Personal Checks feature detailed shots of ladybugs on leaves and grasses. Ladybugs are a favorite of children as seen in the children's rhyme Ladybird, Ladybird. In many parts of the world, the ladybug is considered good luck and you can make a wish if a ladybug lands on you....

---
Ladybugs
Tiny and industrious these precious Ladybugs Personal Checks are a charming way to see these delightful bugs up close. Their round red shell dotted with black almost makes them look like a toy and their little black legs make them able to get around rapidly. Colorful and creative, these four images showcase these little bugs against various colored backdrops of yellow, purple, green and lime and they look like they are balanced precariously on branches, flowers and leaves. For those who love nature these Ladybugs Personal Checks will be fun and will make you notice that this little bug works hard to get around and find food....

---
Ladybug Seeing Red Personal Checks
Ladybug Personal Checks - Red polka-dotted borders over a shades of red create the background for a perfect ladybug! These charming checks are a stylish option for any lady bug lover! ...

---
Ladybug Moments
Ladybug Moments Personal Checks are a simple design of a ladybug sitting on a heart-shaped, green flower stem with a blue and white fading background....

---
Ladybug In Watercolor Personal Checks
Ladybug In Watercolor Personal Checks - These charming lady bugs are alluring and captivating and are sure to bring a smile and relaxation to anyone they come into contact with. Share these beautiful designs every time you open up your checkbook!...

---
Ladybug Garden Personal Checks
Ladybug Garden Personal Checks - These charming ladybugs are enjoying life and the beautiful summer days that lie ahead. Capture the essence of summer and the beauty of nature with these Ladybug Garden Personal Checks today!...

---
Ladybug Charmer Personal Checks
Ladybug Charmer Personal Checks - These happy checks display a fairy ladybug charmer who is certain to keep an eye on your checkbook and make you smile every time you write out a check. ...

---
Lady Luck Personal Checks
Ladybug and 4 Leaf Clover Checks - Put lady luck in your wallet with these lucky four leaf clover and ladybug personal checks! ...

---
Lady Bug Luck Checkbook Cover
Lady Bug Cover for Your Checks Showcases Four Lucky Bugs - Add a bit of luck to your day with this genuine leather Lady Bug Luck checkbook cover! Custom designed to coordinate with our Lady Bug Luck personal check designs, this colorful lady bug cover for your checks features four lucky lady bugs resting on and under bright and cheerful flower petals. What a great way to brighten your day! This exclusive lady bug checkbook cover is handcrafted of genuine, full-grain leather. High-quality features include premium nylon thread stitching and fabric lining. This lady bug art genuine leather checkbook cover also includes a clear duplicate check divider, slip-in personal check pocket, and a second pocket to hold cash or receipts. Don't miss your shot at some lady bug luck - get your Lady Bug Luck checkbook cover from Bradford Exchange Checks as soon as possible! Order now!...

---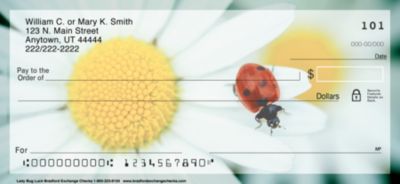 Lady Bug Luck - 4 Images
Carry Luck Wherever You Go with These Lady Bug Luck Checks - In many cultures around the world, lady bugs are considered good omens and are thought to bring great fortune. Add some lady bug luck to your day with these floral lady bug checks from Bradford Exchange Checks! Featuring lady bug art on each check design, our bug buddies are showcased on bright flower petals including a yellow daisy, a white daisy and more. Plus, you'll find these lady bug flower check designs are just as practical as they are pleasing. Brought to you exclusively by Bradford Exchange Checks, they're expertly re-created with premium-quality check printing. Don't miss this terrific chance to put some luck in your life - get your Lady Bug Luck checks today! Order now! Pricing shown is for 2 boxes of Singles....

---
Good Luck Personal Checks
Good Luck Personal Checks - Bring some luck into your life, into bank account and share it with others - with these bright and charming clover checks! The four leaf clover has long been a symbol of luck and finding one and keeping it has been said to bring good fortune. So stock up on your good luck with these fun checks!...

---
Enjoy The Journey Personal Checks
Ladybug Personal Checks - Life isn't about the destination but rather the journey. These symbolic checks remind us to enjoy the journey of life, similarly to how this beautiful ladybug is enjoying its walk along the blade of grass. Who cares where you go, if you don't enjoy the ride to get there. Written on these checks:- Enjoy the journey...- Follow your bliss...- Make your own path...- Lead the way......

---
Enchanted Greenery Checks
Natural Plant Life Checks - These intriguing, creatively lit plant personal checks are enchanting! Four visually inspiring, natural foliage personal checks make this check series a must for someone looking for something a little different!...

---
Doodlebugs Checks
Doodlebug Personal Checks - You'll be spotted miles away with your new Ladybug personal checks! Bright backgrounds of yellow and green create a beautiful contrast to the distinctive coloring of this adorable bug. Loved by everyone, the precious ladybug is a fine member of the bug world and will surely capture the heart of all that receive your checks. ...

---
Dew Ladybugs Personal Checks
Ladybugs Personal Checks - These charming bright and cheery bank checks really capture the spirit and inquisitive nature of the stunning lady bug beetle. Sitting on leaves with dew these designs are interesting and are sure to get another glimpse. If you're looking to add a little green and summer feel to your checkbook, these are the ones for you!...

---
Daisy And Ladybugs Personal Checks
Daisy and Ladybug Checks - These colorful checks capture the magic of springtime! This four image check series features a ladybug in a patch of white daisies. Carry a little spring into your wallet, with these delightful daisy personal checks....

---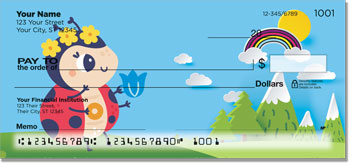 Cute Ladybug Checks
...

---