Dolphin Personal Checks
Order Dolphin theme and other bank check designs online in a variety of styles.
Matching labels and covers are also available to compliment most of these personal check designs.
---
Swimming With Dolphin Personal Checks
Swimming With Dolphin Personal Checks - Dolphins are smart and beautiful creatures and this dazzling check captures a beautiful shot of a woman swimming with a dolphin. Share these fun and cheerful checks each time you open your checkbook and write out a Swimming With Dolphin Personal Check!...

---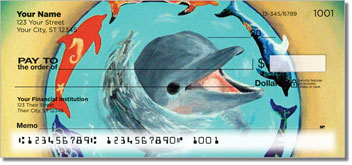 Swimming Dolphin Checks
...

---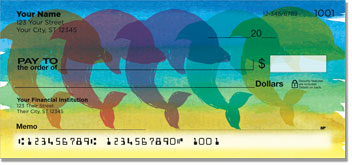 Rainbow Dolphin Checks
...

---
Jet Skiing With Dolphins Personal Checks
Jet Skiing Personal Checks - Ride the sun-kissed waves with our marine mammal friends in these personal bank checks. What can be better than Dolphins and the thrill of the sea? Fill your wallet with fun!...

---
Friendly Dolphins Personal Checks
Friendly Dolphins Personal Checks - Dolphins playing under the sea are the subject of this beautiful, artistic four check series! The artistry as well as the adoring images capture the hearts and imaginations of anyone who gets to see these lovely images!...

---
Fish Out Of Water Personal Checks
Virtual Reality Dolphin Personal Checks - Space, dolphins and technology may have never been combined in such an exciting way. Seriously, you'll flip for these prints!...

---
Dolphins Up Close
Playful and friendly these Dolphins Personal Checks remind us of the exotic creatures that inhabit our oceans. Four exciting poses make these checks especially fun as the dolphin seems like it is laughing in the first picture as he poses with his head just out of the water. The next picture shows a group of them as they swim, the next shows one flying out of the water and the last showcases the dolphin as it seems to clap its flippers at the camera! These Dolphins Personal Checks will make it easy to pay your bills and will definitely make everyone smile and laugh when they see them....

---
Dolphins Personal Checks
Captured in mid-leap, delightful dolphins are the centerpieces of these relaxing ocean images....

---
Dolphins Personal Bank Personal Checks
Blue water swimmers......

---
Dolphins by David Dunleavy
David Dunleavy`s inspirational style graces these Dolphin checks. Showing his passion for undersea preservation, these checks will make a statement everywhere you use them....

---
Dolphin Silhouettes Checks
Against the Sky......

---
Dolphin Silhouettes Checks
Playfully dolphins dance against the backdrop of beautiful sunsets on the Dolphin Silhouettes personal checks, offered exclusively by Extra Value Checks. Our Dolphin Silhouettes Checks are complemented by matching address labels and checkbook cover. Available in single and duplicate check formats....

---
Dolphin Photos Checks
Feature one of the ocean's most graceful creatures - dolphins - on your personal checks. These checks feature dolphins swimming the seas and jumping the waves in formations as well as at rest in a pool of water. Dolphins are mammals that can hold their breath for up to an hour and stay under water for up to 15 minutes at a time and they have the greatest lung efficiency of any animal or human. In addition, they are self aware, talk to each other and can locate each other by their signature whistles - their whistle is like their name and is unique to each dolphin. Dolphin Photos personal checks come in single and duplicate formats and matching address labels and checkbook cover are available....

---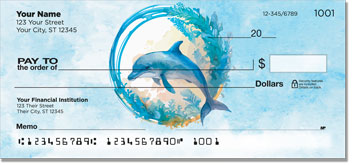 Dolphin Friends Checks
...

---
Dolphin Dive In Personal Checks
Dolphin Dive In Personal Checks - These inviting dolphin check designs are saying "Dive-In". No matter whether you're a diver or just love the ocean and all of it's amazing creatures, these designs are a reminder to enjoy and dive into the amazing underwater world of deep blue oceans and soft tranquil seas. Share your love of the sea with every Dolphin Dive In Personal check you write out!...

---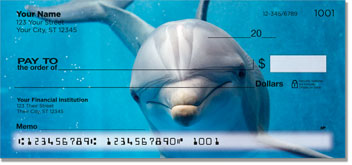 Dolphin Checks
...

---
Defenders of Wildlife - Dolphins Personal Checks
These Dolphins designs showcase dolphins' strength and grace against a background of vivid seas. The Check Gallery proudly supports Defenders' efforts to protect all native wild animals and plants in their natural communities....

---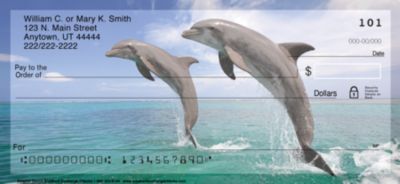 Dancing Dolphins - 4 Images
Make a Splash with These Dolphin Checks! - Our flippered friends always know how to make a splash! Showcase your love of dolphins with these Dancing Dolphins personal checks from Bradford Exchange Checks! Four different dolphin images capture a playful pair of these majestic creatures mid-air, making these checks an exciting tribute to this favorite animal! Plus, you'll find these marine life personal checks are just as practical as they are playful. Brought to you exclusively by Bradford Exchange Checks, they're expertly re-created with premium-quality check printing. Don't miss this wonderful opportunity to celebrate your love for dolphins - get your Dancing Dolphins checks as soon as possible! Order now! Pricing shown is for 2 boxes of Singles....

---