Crocodile Personal Checks
Order Crocodile theme and other bank check designs online in a variety of styles.
Matching labels and covers are also available to compliment most of these personal check designs.
---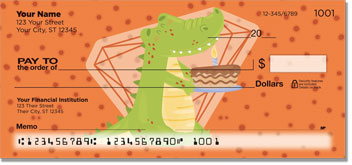 Crocodile Fun Checks
...

---
Crazy Crocodiles Personal Checks
Crazy Crocodile Personal Checks - Inspired by paisley and middle eastern patterns, these unique crocodile checks are artistic eye catching and eye opening! They will remind you not to bite off more than you can chew - with every check you write! See ya later alligator, after while crocodile... Have fun with these creative Crocodile checks!...

---
Chomp On This Personal Checks
Chomp On This Personal Checks - Chomp on these personal bank checks featuring a 4 series set of alligator images. If reptiles are your thing, what better way to show it than by sporting a gator on your personal checks for all to see? Take a bite out of these checks! ...

---