Jellyfish Personal Checks
Order Jellyfish theme and other bank check designs online in a variety of styles.
Matching labels and covers are also available to compliment most of these personal check designs.
---
Man Of War Personal Checks
Man Of War Personal Checks - These venomous Man Of War jellyfish are pictured in these images as completely weightless and absolutely gorgeous. They look almost mesmerizing and peaceful, but can also deliver a paralyzing or very excruciating sting in an instant. Capture these amazing creatures on these Man Of War Personal Checks!...

---
Jellyfish Jungle Personal Checks
Jellyfish Jungle Personal Checks - Capture these amazing and hypnotic jellyfish as they move through the ocean with every check you write! The ocean is a special place with so many species of fish and life of all sorts. There is so much natural beauty and these checks are a reminder of exactly what wonders and breathtaking creatures lay in the ocean's depths. ...

---
Jellyfish Closeups
Truly astounding colors make these Jellyfish Personal Checks absolutely beautiful and leave you wondering if they are truly real. With stunning shades of orange, purple, blue and pink you will see four different snapshots of these fish that showcase the wonders of our oceans. Although beautiful to behold these jellyfish are dangerous so it is best to look at them in a picture rather than try to capture your own photos underwater. If you like to be different, you will surely be a hit with these Jellyfish Personal Checks that will intrigue anyone who sees the magnificence of these interesting creatures....

---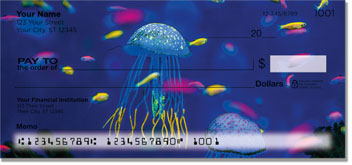 Jellyfish Checks
...

---