Goat Personal Checks
Order Goat theme and other bank check designs online in a variety of styles.
Matching labels and covers are also available to compliment most of these personal check designs.
---
Got Your Goat Personal Checks
Got Your Goat Personal Checks - These goats has the good life! Join these happy goats and share them with every check you write out. They're sure to remind you to stop and enjoy the little things and just be happy!...

---
Goats Checks
Goats Personal Checks - These unusual Goat Checks are sure to add an element of fun to your wallet!...

---
Goats
These animals have a reputation for being stubborn but they all look charming in these Goats Personal Checks that you are sure to love. A variety of four different scenes shows off: a pair of white goats that look like babies that also have pink ears, a single brown and white goat standing in a field by himself, another single goat with his head tilted like he is listening to you and finally a pair of brown and white goats that posed for the camera. The Goats Personal Checks show off these independent animals as they roam around their own territory....

---
Goat Profiles
Goat Profiles Personal Checks feature goats in a variety of outdoor settings from fields to snow covered mountains. Goats are one of the oldest of the domesticated species and are used for their milk, meat, hair, and skins all around the world. More recently, some have gained popularity as pets too. Domesticated goats came from the wild goats of southwest Asia and Eastern Europe....

---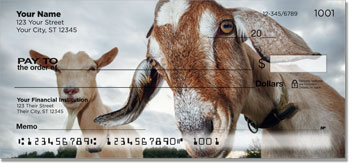 Goat Checks
...

---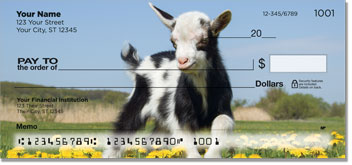 Baby Goat Checks
...

---