Buffalo Personal Checks
Order Buffalo theme and other bank check designs online in a variety of styles.
Matching labels and covers are also available to compliment most of these personal check designs.
---
Home On The Range Checks
Buffalo on the Range Personal Checks - Home, Home on the Range. Where the deer and the ... buffalo range! This series of four capture the magnificent buffalo in all their glory. Featured in their natural habitat, these ranging animals are shown shedding, at the water hole and enjoying their every day routines! ...

---
Buffalo Hides Checks
Buffalo Hides Personal Checks - Bring a bit of the wild outdoors to your checkbook with the rugged and unique Buffalo Hide Check Series! Four images rotate through this set of furry, fuzzy personal checks. The various textures of buffalo hide are displayed throughout, making each check individual from the next. ...

---
Buffalo Checks
Buffalo Personal Checks - The symbol of strength and endurance can be brought to your checkbook with these majestic buffalo checks. Four checks carry different images of the horned, hairy buffalo as it roams through the vast grasslands. Add the defiant appeal of the buffalo to your bank check with these wild images. ...

---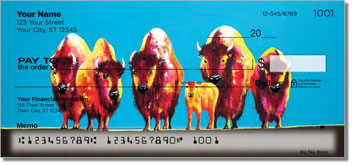 Bison Checks
...

---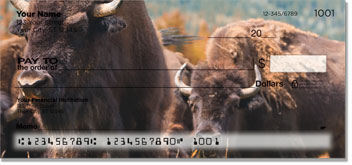 American Bison Checks
...

---