Goldfish Personal Checks
Order Goldfish theme and other bank check designs online in a variety of styles.
Matching labels and covers are also available to compliment most of these personal check designs.
---
Goldfish Personal Checks
Goldfish Personal Checks - Use the Goldfish Personal Checks and you'll be swimming in compliments! Superb photography captures the glistening scales and vibrant colors of your favorite fish in four varying designs. Show off your goldfish pride with a purchase of the Goldfish Check Series!...

---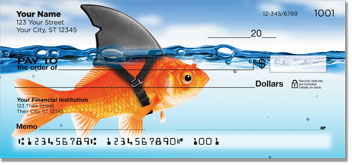 Goldfish Checks
...

---
Go Big Or Go Home Personal Checks
Go Big Or Go Home Personal Checks - If you are looking for fun whimsical checks with a message that is to the point, with a touch of satire - Look no further, these are your checks! A helpless little goldfish stares at a fish hook that is as big as it is with the following messages:Go big or go home!Tie one on!Wanna hook up?Hook'em...You will be reeling in the fun with these one of a kind personal checks!...

---
Double Tailed Goldfish Checks
Goldfish Checks - These shimmering, crisply shot goldfish personal checks are a swimming addition to any check collection! Pay tribute to every child's favorite catch, but make sure to release! Four fun, playful designs to please the eye. No feeding required!...

---