Insects Personal Checks
Order Insects theme and other bank check designs online in a variety of styles.
Matching labels and covers are also available to compliment most of these personal check designs.
---
Winged Blessings Personal Checks
Butterfly and Dragonfly Personal Checks - Artful images of butterflies and dragonflies are the feature of this colorful four check series. Whimsical and artistic, these fun checks are sure to brighten your day! Have fun....

---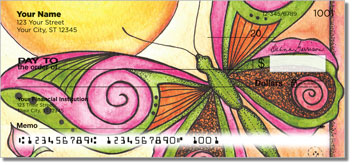 Whimsical Wings Checks
...

---
Love Bugs
Unique Personal Checks to Flutter Your Heart! Themed, Colorful, a Personal Check Art Exclusive! - These colorful designer personal checks feature the cutest little Love Bugs you've ever seen! You'll fall head-over-heels for artist Pepper Tharp's delightful dragonflies, fireflies and butterflies, captured with free-flowing swirls, whimsical accents, and dreamy washes of color. Bradford Exchange Checks is delighted to present Pepper Tharp's enchanting artistic talents in an exclusive collection of four exclusive personal check designs that will set your heart a-flutter with sweet delight. Adorned with the word Love and a charming heart theme, each colorful personal check is a lyrical flight of fancy and imagination! Every personal check you write will make you smile with the pure fun of Pepper Tharp's exuberant, creative style and artistic charm. The Love Bugs personal check designs are available exclusively from Bradford Exchange Checks, and are expertly re-created with premium-quality check printing. Carry these engagingly colorful personal checks wherever you go and let your heart dance with joy for these lovey-dovey Love Bugs ! Order your Love Bugs personal check designs now! Pricing shown is for 2 boxes of Singles....

---
Let'm Roll Personal Checks
Insect Personal Checks - These whimsical light-hearted personal checks will surely bring on the grins when you pull these out of your wallet. The rolled up corners of these checks show the happy little cartoon like creature responsible! Let him go to work rollin in the grins for you with each check you write!...

---
Insects On Flowers Checks
Insects On Flowers Personal Checks - From tiny antenna to the veins in the wings of insects, these photographic shots leave nothing to the imagination! In four high-definition shots you will be able to examine a butterfly, a lady bug, a bee and a dragonfly as they feast on pollen and crawl along the beautiful flower petals. Perfect for those that love photography and the details of nature. ...

---
Insect Illustration Checks
...

---
Hydrangea With Guests Personal Checks
Hydrangea With Guests Personal Checks - These unusual Hydrangea Checks are sure to add an element of fun to your wallet!...

---
Fern With Insects Checks
Insect Checks - These quiet little insect personal checks make quite the buzz! Flies, lady bugs, and ants are all over this fun check series. Professionally shot using a crisp macro lens, you won't miss a single detail. So put these exciting checks in your pocket and get some ants in your pants!...

---
Cute as a Bug
The illustrated butterflies, honey bees, dragonflies, and lady bugs featured on these checks are pure delight and no fright. Coordinating return address labels are available....

---
Creature Comforts Personal Checks
Creature Comforts Personal Checks - These simple and fun loving designs are sure to bring a cheery feel and comfort to any bank check they grace. These designs are really the perfect fit for the nature lover or someone that is looking for a bright pop of color and a soft and unique design element. Cheers!...

---
Bugged Personal Checks
Bugged Personal Checks - Who says bugs can't be girly - or that a girly can't be bugged! Show a little attitude with these "bugged" insects! The grasshopper with a pink ribbon, or the spider with it's long legs and pink earrings, each sport the following phrases:"Bugged"Bug Me"What more is there to say? Seriously....

---
Beetle Mania Personal Checks
Beetle Mania Personal Checks - OK, so maybe you have to be a little warped to be looking at these Beetle personal checks - but who says warped is not a good thing? They almost look cute if you look at them long and hard enough! If you are wanting people to go "buggy", then these are your checks! Have fun......

---