Pizza Personal Checks
Order Pizza theme and other tasty Food and Drinks bank check designs online in a variety of styles.
Matching labels and covers are also available to compliment most of these personal check designs.
---
Pizza Pleaser
Pizza Checks - Pizza is an Italian marvel. One of everyone's favorite foods. Tomatoes, fresh vegetables, herbs, and oils make for a mouth-watering display in these personal bank checks.
Matching address labels and coordinating accessories available. Deposit slips a personal check register are provided with each order of personal checks. Please note: Check images on this site are brightened to make viewing easier; however, the actual printed check is printed to meet US banking requirements and will be lighter than shown....

---
Pizza Delivered Personal Checks
Pizza Delivered Personal Checks - Hungry? This steaming hot pie is fresh from the oven and delivered to directly to your wallet. Grab a slice of delicious meaty and cheesy pizza with these personal checks. Whether you love deep dish or crispy thin crust, you can eat this mouthwatering meal every day--guilt and calorie free....

---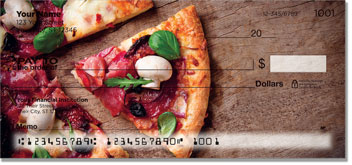 Pizza Checks
...

---
Homemade Pizza Personal Checks
Homemade Pizza Personal Checks - Have your very own pizzeria inside your checkbook with these delicious homemade pizza personal checks! You'll smell the aroma of pizza hot from the oven every time you open your wallet with these four tasty scenes! These images will make your mouth water!...

---
Fresh Hot Pizza
These delectable and mouthwatering Pizza Personal Checks will have you rushing to speed dial your favorite pizza delivery joint. Scrumptious cheese is just melting off your checks; make sure you don't eat your checks, a little extra fiber is good, but these checks wont taste as good as they look!...

---