Desserts Personal Checks
Order Desserts theme and other tasty Food and Drinks bank check designs online in a variety of styles.
Matching labels and covers are also available to compliment most of these personal check designs.
---
Strawberry Shortcake Checks
Yummm...dessert shortcake......

---
Life Is Sweet Personal Checks - 4 scenes
Bonnie Marcus Collection What's Included Per Box: 5 Pads of Checks 20 Deposit Tickets 1 Transaction Register...

---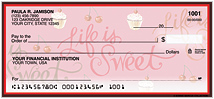 Life is Sweet Checks
Indulge your sweet tooth with the Life is Sweet personal check design. Featuring cupcakes cherries pie and all types of sweet treats your checks will be a tempting delight. Add this delicious design to your checkbook today! Bonnie Marcus Collection Product Description Singles Duplicates Checks per pad 25 20 Pads per box 5 5 Checks per box 125 100 What's Included FREE 20 Deposit Tickets and1 Transaction Register...

---
Indulgence 4 Images
Don't Even Try to Resist these Delectable Dessert Check Designs - You really can have your cake and eat it too! Satisfy your craving for all things delectably decadent with the Indulgence dessert check designs exclusively from Bradford Exchange Checks! Four delicious designs shamelessly showcase your favorite yummy desserts set against whimsical backgrounds of candy pink, mint green and, yes, chocolate brown, each highlighted by a single one-word-says-it-all sentiment. There's a chocolate sundae ( Delicious! ), chocolate cake ( Bliss! ), a chocolate-covered strawberry ( Decadent ), and a chocolate truffle ( Indulge! ). Words to live by, right? Plus, you'll love the fact that these Indulgence personal checks are just as practical as they are enticing. Brought to you by Bradford Exchange Checks, each is expertly re-created with premium-quality check printing. So don't wait! Dig into Indulgence chocolate cake, sundae, strawberry and cupcake personal checks as soon as possible! Order now! Pricing shown is for 2 boxes of Singles....

---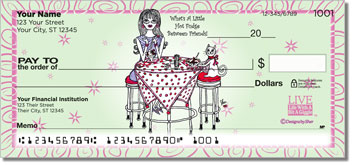 Dessert Lover Checks
...

---