Cocktails Personal Checks
Order Cocktails theme and other tasty Food and Drinks bank check designs online in a variety of styles.
Matching labels and covers are also available to compliment most of these personal check designs.
---
Without Liquor... Life Is Crap
What would life be like if liquor was never made? Without Liquor ... Life is Crap Personal Checks expresses the feeling without tequila and vodka. As always, these checks are available at our everyday low prices....

---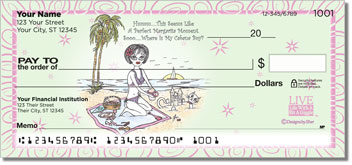 Wine & Cocktail Checks
...

---
Vodka Lover Cocktails Personal Checks
Cocktails Personal Checks - No overly sweet umbrella drinks here. Instead, just a few of the classic drinks made from vodka. Four refreshing cocktails in four images are showcased in this collection that has the professional bartender or casual drink mixer in mind. Show off your mixology skills and spin a few bottles with this refreshing personal check series....

---
Tropical Cocktails Checks
Tropical Beach Checks - We all dream of taking off in the middle of the day to a tropical paradise. Well with these sandy, sun soaked, tropical personal checks you're whisked away every time you open your checkbook! Four fun designs keep your imagination soaring and focused on your next getaway. WARNING: May cause excessive daydreaming. ...

---
The Designer Martini Personal Checks
Martini Personal Checks - Who doesn't love a great martini? Now you can be reminded of how much you want one and love them whenever you use these checks. This series of four is done in a retro-chic style and color coordinates according to drink. Appletini? Cosmo? Yes, please! ...

---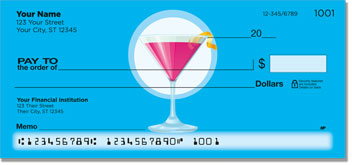 Summer Cocktail Checks
...

---
Party Down Personal Checks
Party Down Personal Checks - Get the party hopping with these funny frog personal checks. These guys really know how to be the life of the party and have some fun. Share this fun good times spirit every time you write out a check!These checks say:- Party Down- Drinkipoo- Tipsed- Smashed...

---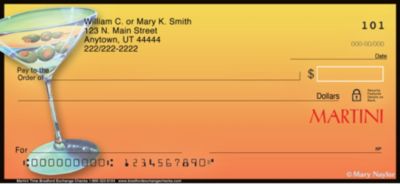 Martini Time 4 Images
Shake Things Up with these Martini Check Designs! - Quench your thirst for classy cocktails with the Martini Time checks from Bradford Exchange Checks! Four different designs let you name your poison: Love a Lemon Drop? Crave a Cosmopolitan? Or are you into the classics, say a Manhattan, or maybe a bone dry Martini? They're all here, skillfully mixed in vibrant colors by acclaimed artist Mary Naylor. Now every check you write livens up the big cocktail party of life - after all, it's always Happy Hour somewhere, right? Plus, you'll love the fact that these martini personal checks are just as practical as they are refreshing. Brought to you by Bradford Exchange Checks, each is expertly re-created with premium-quality check printing. It's easy to order your Martini Time personal checks online, so don't wait! Order now! Pricing shown is for 2 boxes of Singles....

---
Martini Madness Personal Checks
Martini Personal Checks - These psychedelic martini checks are just what you need! Nothing is more refreshing than an image of a classic martini with the olive resting, waiting for you to drink it up! So quench that thirst for some fun and get this series of four personal checks! ...

---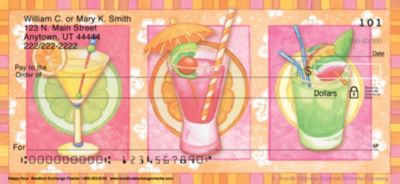 Happy Hour 4 Images
Toast Happy Hour Party Personal Checks! Unique Personal Check Designs Brim with Good Cheer! - Sweet refreshments tempt your tastebuds when the work week is over and Happy Hour begins! The very sight of their cool colors, swizzle sticks and fruit-laden paper umbrellas transport you to a gorgeous beach resort on a vacation holiday - far away from the workplace. Now you can raise a glass of good cheer whenever you open your checkbook with these Happy Hour designer personal checks! Featuring the acclaimed artistry of Jennifer Johnson Haywood, these fun party personal check designs are available only from Bradford Exchange Checks. Daiquiris, margaritas, martinis and other exotic, fruity cocktails are gaily splashed across four unique personal check designs. You'll love writing personal checks with these carefree party check designs - so refreshing, tantalizing and brimming with fun that you can almost taste every sweet, delicious sip! The Happy Hour party personal checks are available exclusively from Bradford Exchange Checks, and are expertly re-created with premium-quality check printing. Carry these exclusive party personal checks with you everywhere - you won't even need a tray! Don't wait, order up your Happy Hour party personal checks now! Pricing shown is for 2 boxes of Singles....

---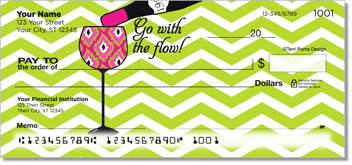 Go With the Flow Checks
...

---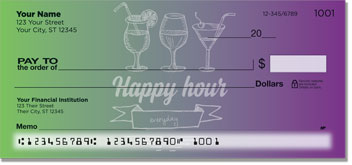 Drink Up Checks
...

---
Colorful Cocktails
Cocktails......

---
Cocktails by My Friend Ronnie
Cocktails Personal Checks by My Friend Ronnie will allow you to show off your sense of humor and your love for a special kind of beverage. There are four scenes of different women, each having a humorous quote, such as "Live, laugh...drink!...

---
Cocktails - Classic Favorites Checks
Cocktail Checks - it's happy hour all day with these fun colorful cocktail personal checks! Margaritas, long islands, and bloody Mary's are classic cocktails that have been artistically printed on these great checks. Join the party, and have a cocktail!...

---
Cocktail Lineup Personal Checks
Cocktail Lineup Personal Checks - It's always 5 o'clock with these checks in tote! Tall, short, blended, shaken, straight-up or stirred, these checks will always go down smooth! Garnish your wallet with these four playful checks!...

---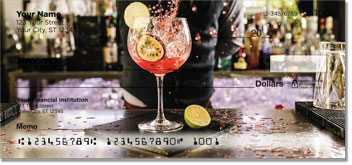 Cocktail Checks
...

---
After Five
Enjoy an Appletini, Lemon Drop, Cosmopolitan, or, a traditional Martini every time you write a check!...

---