Coffee Personal Checks
Order Coffee theme and other tasty Food and Drinks bank check designs online in a variety of styles.
Matching labels and covers are also available to compliment most of these personal check designs.
---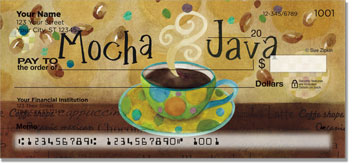 Zipkin Coffee Checks
...

---
Yummy Coffee Checks
Java Lovers Checks - For anyone who savors the bean, these prints will have you craving just one more steamy sip. French press or standard drip: Get your joe here....

---
Vintage Coffee, Tea Or Me Personal Checks
Vintage Coffee, Tea Or Me Personal Checks - Take a break and relax with one of delicious vintage coffees and teas! These checks are sure to bring us back to a time when we took more space to relax and to do what is important in this world. Cheers!...

---
Vintage Coffee Checks
Vintage Coffee Checks- Caffeine addicts unite! Four photographs of spilled coffee beans will warm up your checkbook, and your day. Perfect way to pay for your morning cup....

---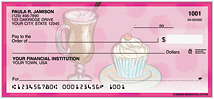 Time For Coffee Checks
For the Coffee lover in all of us this wonderful design by Bonnie Marcus features coffee cups of all styles and shapes. You will be able to almost smell the aroma when you write your check. Add this tempting design to your checkbook today! Bonnie Marcus Collection Product Description Singles Duplicates Checks per pad 25 20 Pads per box 5 5 Checks per box 125 100 What's Included FREE 20 Deposit Tickets and1 Transaction Register...

---
Time for Coffee - 4 images
Bonnie Marcus Collection What's Included Per Box: 5 Pads of Checks 20 Deposit Tickets 1 Transaction Register...

---
Thermos Of Hot Java Personal Checks
Hot Java Personal Checks - There's nothing like the smell freshly ground coffee in the morning. Coffee and the winter months definitely go hand in hand. These artful thermos, cup, and coffee illustrations are sure to keep you feeling warm all winter long. Pour another cup!...

---
Old Fashion Coffee
Old Fashion Coffee Personal Checks feature four different check scenes of dark brown coffee beans, which are actually the seeds of a coffee plant and only called "beans" due to their resemblance to beans....

---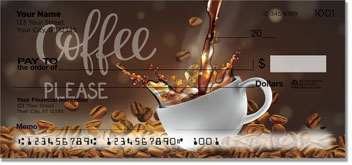 Java Love Checks
...

---
Java Beans Personal Checks
Coffee Checks - Look out, these delicious coffee themed personal checks are known to illicit extensive trips to your local barista! A perfect accessory to any coffee lover, or related business, stay chipper with this mouth watering check series....

---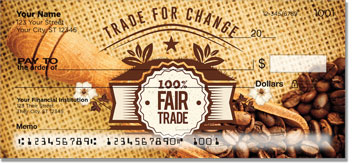 Fair Trade Coffee Checks
...

---
Cup of Joe Checks
Coffee Checks - vNeed a little energy for your day? A little warmth in the morning? Then these classy, coffee checks are perfect for you! Four professionally photographed scenes so real you'll think you could smell it....

---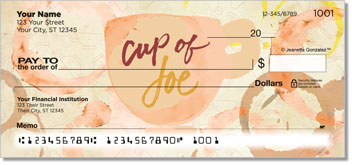 Cup of Joe Checks
...

---
Cup of Joe
Start your day off with Cup of Joe Personal Checks. Each check scene has a coffee cup made of love, one with a heart shaped cup and the others with a heart shaped drop of cream....

---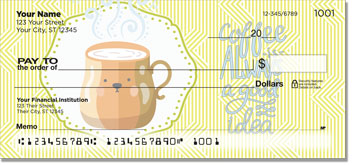 Cup of Coffee Checks
...

---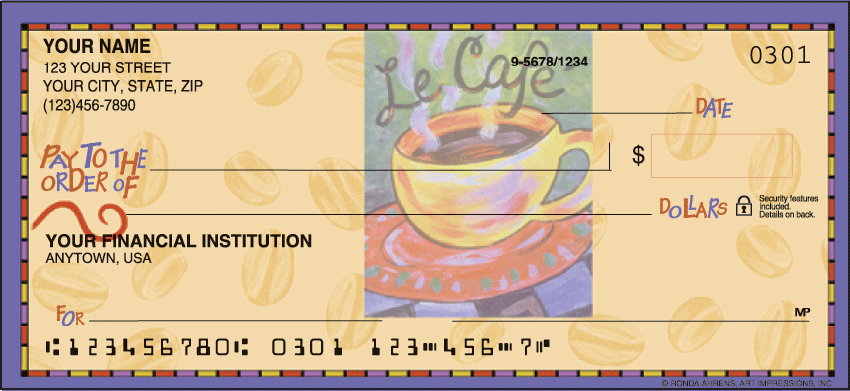 Cup o' Java
The world's love for coffee is celebrated with these checks featuring four stylized illustrations by artist Ronda Ahrens....

---
Coffee Time Images Checks
Dedicated coffee drinkers will love these Coffee Time Personal Checks. Coffee is one of the most popular beverages in the world and coffee beans are grown in over 70 countries. Coffee beans are one of the most traded agriculture commodities in the world. Most of our coffee is grown in South America, Africa, and Southeast Asia. Coffee Time Personal Checks are available in single and duplicate check format. Matching address labels and a coordinating checkbook cover are also available....

---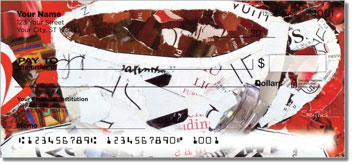 Coffee Time Checks
...

---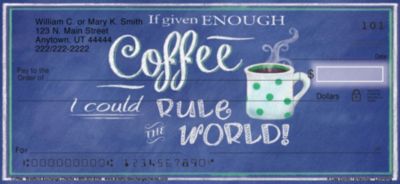 Coffee Talk 4 Quotes
Drink up Some Humor Along with Your Love for a Great Cup of Joe with Coffeehouse Checks - Morning, noon or night-nothing is more enjoyable than love, laughter and lots of strong coffee. Now, share a few laughs and your need for caffeine when you use these humorous coffee checks from Bradford Exchange Checks. Showcasing the chalkboard-style artwork of Lisa Conlin, four unique designs are paired with funny sentiments. Designs include This HOUSE runs on Love, Laughter, and lots of Strong Coffee , My Cup of Enlightenment Served Daily , Coffee makes anything possible and If given ENOUGH Coffee I could Rule the World! .Plus, you'll find these humorous coffee personal checks are just as practical as they are clever. Brought to you exclusively by Bradford Exchange Checks, they're expertly re-created with premium-quality check printing. Don't miss this beautiful opportunity - get your delightful coffee checks as soon as possible! Order now! Pricing shown is for 2 boxes of Singles....

---
Coffee Stains Personal Checks
Coffee Stains Personal Checks - We all know coffee is delicious but who knew it could be art, too? Coffee stains in varying sizes and shades of brown comprise the unique abstract design in this collection. Give your checkbook a caffeine boost with these personal checks...

---
Coffee Mugs Personal Checks
Coffee Lovers Checks - Here's to the sacred savory savior of our mornings and late evenings! These frothy, freshly blended coffee personal checks will put a little bounce in your step! Appetizing to the eye and almost too hot to carry, these creamy mocha cappuccino personal checks are a shot of espresso to your checkbook!...

---
Coffee Mugs Close Up Checks
Coffee Mugs Close Up Checks-You can really grab your favorite cup of Joe with these personal checks! Four up close photographs of coffee mugs will get your energy up and you head out to buy your morning brew....

---
Coffee Lovers Checks
Coffee Lover Checks - You don't need to go to your favorite coffee shops to get a cup of fancy joe. These four delicious designs will keep your energy up throughout the day. Warm up with these caffeinated personal checks!...

---
Coffee Break Top Stub Personal Checks
Coffee Break Top Stub Checks were designed especially for those that need their morning wake up! These caffeine packed top stub checks add flavor to your checkbook....

---
Coffee Break Personal Checks
Checks especially for those who need their morning wake-up! Complete your order with matching address labels, contact cards & a coordinating woven leather checkbook cover....

---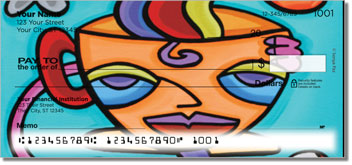 Coffee and Latte Checks
...

---
Coffee & Muffin by Deidre Mosher
Coffee & Muffin by Deidre Mosher Personal Checks are a must have for any morning person. Represent your daily routine that jump starts your day with this check design....

---