Fruit Personal Checks
Order Fruit theme and other tasty Food and Drinks bank check designs online in a variety of styles.
Matching labels and covers are also available to compliment most of these personal check designs.
---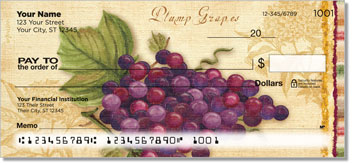 Vintage Fruit Checks
...

---
Tropical And Fruity Checks
Tasty Fruit Checks - These deliciously blended farmers market fruity personal checks offer a mixed array of only the most colorful varieties! Watermelons, strawberries, kiwis, pineapples, and cantaloupe abound in this personal check series! Kick back, relax and enjoy!...

---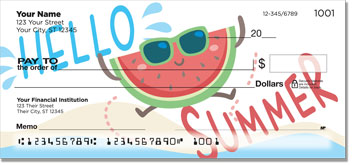 Summer Fruit Checks
...

---
Strawberry Patch Personal Checks
Strawberry Personal Checks - Ripe, Luscious and Red, who doesn't love a big juicy strawberry! A set of four, the detail of these berries will leave your mouth watering. You'll crave this healthy treat every time you glance upon these personal checks. ...

---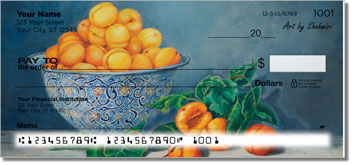 Shahmiri Still Life Checks
...

---
Pear Checks
...

---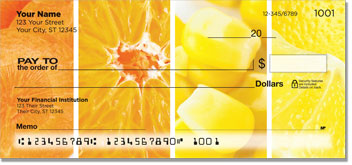 Not-So Forbidden Fruit Checks
...

---
Luscious Fruits Checks
Ripe Checks - These prints are full of all your favorites, ready for the picking. Bright colors and they're all in season. Four distinct mouth-watering designs all year round....

---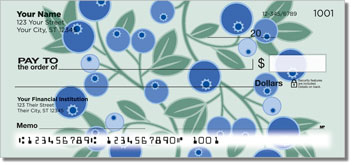 Lindgren Fruit Checks
...

---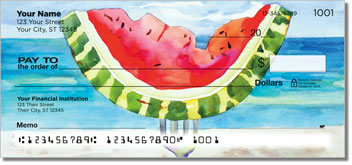 Kay Smith Fruit Checks
...

---
Juicy Personal Checks
Fruitilicious is the only way to describe this personal check series. Your mouth will water every time you open your checkbook....

---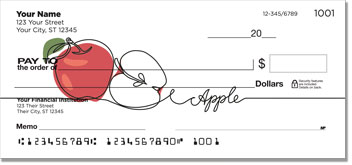 Juicy Fruit Checks
...

---
Juicy Citrus Fruits Personal Checks
Fruit Personal Checks - These citrus fruits will make your mouth water! Each check is zoomed in on the luscious fruit and their appealing colors of orange and lime leave a happy and healthy taste in your mouth. ...

---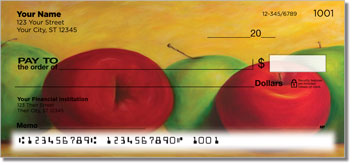 Grissom Fruit Checks
...

---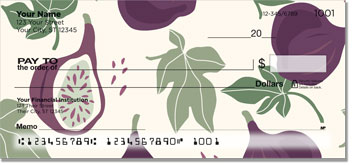 Fruits for Health Checks
...

---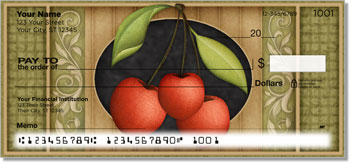 Fruitful Checks
...

---
Fruit Splash
Chilled and wet......

---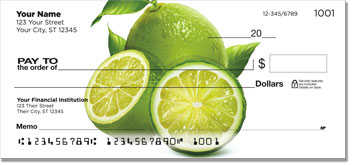 Fruit Slice Checks
...

---
Fruit Of The Vines Personal Checks
Grape Personal Checks - Grapes, grapes, and more grapes! The subtle outline of grapes is enhanced with a bold border in the same color family. This popular design has a broad appeal - from gardeners, wine lovers, to anyone that love vintage patterns - these classy checks are a nice addition to any wallet! ...

---
Freshly Cut Fruit Checks
Cut Fruit Checks - Nature's candy comes alive on these four colorful personal check variations. From luscious strawberries to zesty lemons, slice and dice to create your perfect fruit salad....

---
Fresh Fruits Personal Checks
Fruit Checks - Looking for some delicious checks? These perfect personal check designs feature amazingly vivid shots of nature's candy. So fresh looking, you'll develop an appetite!...

---
Fresh and Fruity
The fresh and fruity personal checks offer you the rich array of tasting the succulent array of fruits you die for.These are ideally suited to nourishing your senses with the diverse array of fruits for your personal checks. There are matching address labels that are provided alongside as well. Every time you use them, the checks will make you feel the longing for summertime. The scrumptious fruits include the delectable grapes, watermelons, strawberries, apples, figs and tempting cherries, among others.Every fruit is selected typically to match your appetite. Try out the fresh and fruity personal checks to give your business transaction an all-new dimension....

---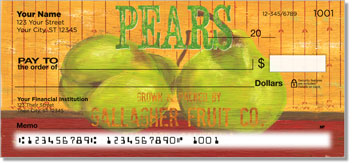 Farm Fresh Checks
...

---
Dewey Grapes Personal Checks
Grape Personal Checks - Graphically designed, these luscious grapes pop out at you! You can practically taste those bountiful grapes by just looking at these personal checks. These are perfect for any grape or wine enthusiast! ...

---
Citrus In Technocolor Personal Checks
Citrus Margarita Checks - Head over to Margaritaville and have some fun with these awesome, citrus themed personal checks! Fruity flavored with a hard tropical punch, pass on the party with nothing but your checkbook! Have some fun with these professionally designed and loudly rendered personal checks....

---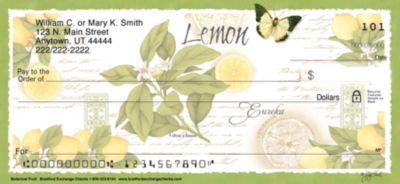 Botanical Fruits
Botanical Fruit Checks Showcase Classic Fruit Patterns and Butterflies by Artist Joy Hall - The artistry of Joy Hall is just as sweet as her subjects! Now, enjoy each day with the beauty of botany and the charm of butterflies with these botanical fruit checks from Bradford Exchange Checks. Four elegant designs showcase Joy Hall's delectable portraits of fruit including strawberries, lemon, lime and orange, each enhanced with a delicate butterfly posed by the fruit name. Faint backgrounds featuring the fruit's name in romantic languages along with other soft touches complete the presentation.Plus, you'll find these botanical fruit personal checks are just as practical as they are pretty. Brought to you exclusively by Bradford Exchange Checks, they're expertly re-created with premium-quality check printing. Don't miss this unique opportunity to carry the gifts of nature wherever you go. Get your Joy Hall checks as soon as possible! Order now! Pricing shown is for 2 boxes of Singles....

---
Assorted Fruit Personal Checks
Fruit Personal Checks - These fruity checks will not only make you want to have a healthier diet, but their artful photos will cheer you up at every glance. Attention to detail is the key element in each one of these scenes, and it's that element that will make your mouth water! ...

---