Candy Personal Checks
Order Candy theme and other tasty Food and Drinks bank check designs online in a variety of styles.
Matching labels and covers are also available to compliment most of these personal check designs.
---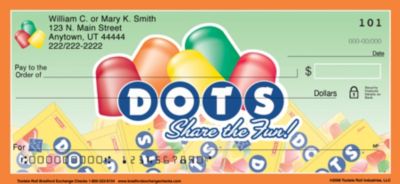 Tootsie Roll and other Classic Candies - 8 Images
Tootsie Roll Check Designs Make Every Day Sweeter! - Got a sweet tooth? Satisfy your candy cravings with Tootsie Roll check designs from Bradford Exchange Checks! Six different designs showcase the logos of your favorite treats and bring back plenty of nostalgic fun. There are Dots, Junior Mints, Sugar Daddy, Charleston Chew, and Tootsie Roll POP personal checks. Plus, there are two terrific Tootsie Roll check designs - the classic Tootsie Roll logo, and a nostalgic What's Up Toots? And they're all delightfully delicious ! You'll also enjoy the fact that your Tootsie Roll check designs are just as practical as they are fun. Brought to you exclusively by Bradford Exchange Checks, each is expertly re-created with premium-quality check printing. We've made it easy to order online, so hurry! It's time to get your Tootsie Roll checks - order now! Pricing shown is for 2 boxes of Singles....

---
Sweet Candy Checks
...

---
Package Deal - Chocolate Bars
Mars, Inc. What's Included: 1 Box of Checks (125 for Singles, 100 for Duplicates) 20 Deposit Tickets 1 Transaction Register 144 Matching Address Labels 1 Coordinating Leather Cover Free Handling (A $8.85 value) Trackable Delivery...

---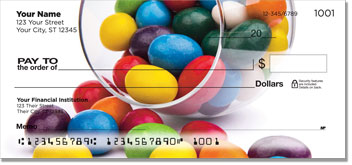 Kid Candy Checks
...

---
Jelly Beans
Enjoy a little sweet without the guilt with our Jelly Beans Personal Checks featuring colorful pictures of your favorite bean! Did you know that jelly beans take anywhere from 7-21 days to make just one single jelly bean? Wow! Jelly beans are about the same size as a newborn kangaroo at birth!...

---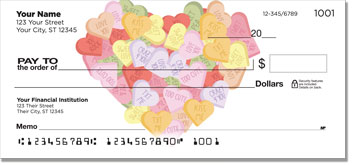 Candy Heart Checks
...

---
Hard Candy Fun Personal Checks
Candy Personal Checks - These swirly delights will instantly bring out the inner child! This series of four will instantly bring you to that world surrounded by candy and bright colors and possibilities! Colorful pin wheel candies and imagination go hand in hand! ...

---
Gumdrops and Jelly Rings
Sugary sweet......

---
Chocolate Personal Checks - 4 Different Candy Bars
Mars, Inc. What's Included Per Box: 5 Pads of Checks 20 Deposit Tickets 1 Transaction Register...

---
Candy!
The candy personal checks offer an exciting range of yummy candies to entice your sweet tooth. They will leave the sweet taste lingering on your mouth every time you write a check.The candy personal checks also come with complimenting address labels with colorful designs like sugar-sprinkled candies, star shapes, cotton cloud candies, half moon shapes and more. Check out the colored candy personal checks to share your craving. Feast your eyes on the crisp candies to complete your candy extravaganza.These candy checks also have a high quality to make sure that the standard of service maintained is high....

---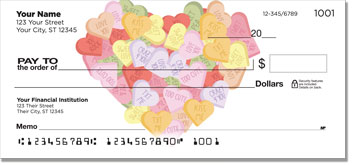 Candy Heart Checks
...

---