Apple Personal Checks
Order Apple theme and other tasty Food and Drinks bank check designs online in a variety of styles.
Matching labels and covers are also available to compliment most of these personal check designs.
---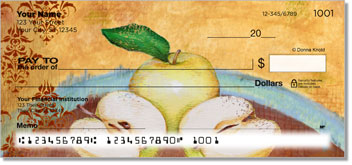 Knold Apple Checks
...

---
Candy Apple Personal Checks
Tasty and healthful......

---
An Apple A Day Checks
Apple Checks - An apple a day keeps the doctor away! These personal check designs show some of nature's greatest fruit in four variations. These apples are as delicious as they are crisp!...

---