Beer Personal Checks
Order Beer theme and other tasty Food and Drinks bank check designs online in a variety of styles.
Matching labels and covers are also available to compliment most of these personal check designs.
---
Without Beer... Life Is Crap
Without Beer ... Life is Crap Personal Checks is a hilarious check series with different scenarios that involve alcohol drinking. There is one expressing what it's like to have a hangover, and another that shows beer falling through the grocery bag. As always, these checks are available at our everyday low prices....

---
Time for a Cold One
Time for a Cold One Personal Checks have the most widely consumed alcohol beverage, beer, featured on four check scenes. Add some relaxation to your life with these checks....

---
Open Checks
Beer Checks - These fun, thought provoking alcohol checks ultimately lead you to one conclusion... time for some beer! Sure, it might always be on YOUR mind, but put it on someone else's with these fun, professional close ups. Don't delay, the party starts today!...

---
Golden Suds Checks
Beer Checks - Crack your checkbook open to a refreshing, bubbly golden brew. Sure, we could argue all day about Miller and Budweiser, pale ale or dark, but at the end of the day we all love it: beer. Our golden beer personal checks are sure to get your mouth watering. Hey, it's 5 o'clock somewhere....

---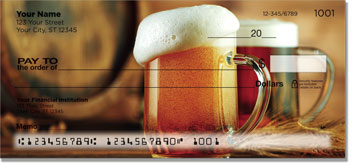 Beer Checks
...

---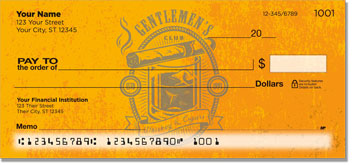 After Dinner Checks
...

---
A Cold One Checks
Beer Checks - Crack open your checkbook for a cold one with these delicious golden beer personal checks. You're never far from refreshment with this fun, thirst-quenching personal check series. Celebrate the drink of celebration with four fulfilling check designs! ...

---