Guardians of the Galaxy Checks
Order Guardians of the Galaxy personal checks online in a variety of designer styles.
Address labels and covers are also available to match or complement most of our check designs.
---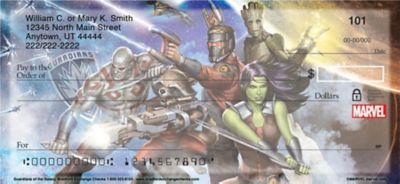 Guardians of the Galaxy Personal Checks
Feel like part of the Milano crew as you wield your mighty pen, ready to embark on an epic check-writing adventure. These exclusive Marvel Checks from Bradford Exchange Checks feature your favorite Guardians of the Galaxy in all their galactic glory. The entire cast of heroic characters pose together in the first check scene to kick off this stellar series of Marvel personal checks. Then each superhero poses against colorful scenery complete with planetary props and the team logo. Gamora swings one serious sword in her scene; Star-Lord sports double element guns and his signature helmet; Rocket Raccoon shows us that nothing, including his size, slows him down; Groot holds his ground among a tangle of wayward roots and grasses; and a grimacing Drax is in true Destroyer form with a glistening, razor-sharp blade in each hand. Coordinating Guardians of the Galaxy checkbook cover and address labels also available....

---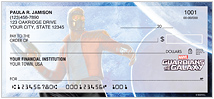 Guardians of the Galaxy Checks
Join this ragtag band of outsiders misfits and swashbucklers as they join forces to defeat a cosmic force of epic proportions with this updated Guardians of the Galaxy check series. Each check features an action packed shot of the beloved characters: Star-Lord Rocket Raccoon Drax the Destroyer and Gamora. Let the adventures begin! Order your Guardians of the Galaxy personal checks today! 2016 MARVEL marvel.com Product Description Singles Duplicates Checks per pad 25 20 Pads per box 5 5 Checks per box 125 100 What's Included FREE 20 Deposit Tickets and1 Transaction Register...

---