John F Kennedy Checks
Order John F Kennedy personal checks online in a variety of designer styles.
Address labels and covers are also available to match or complement most of our check designs.
---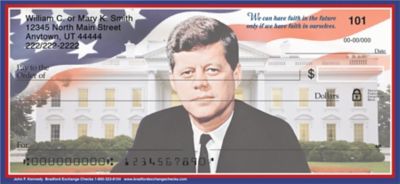 John F. Kennedy Personal Checks
Proudly express your respect and admiration for one of the most memorable and inspirational presidents of all time with these four check designs from Bradford Exchange Checks. Featuring images from throughout his presidency, these John Fitzgerald Kennedy tribute checks keep the momentous "Camelot" era fresh in our memories and in our hearts. Incorporating an American flag motif, along with some notable speech excerpts, the designs capture historical moments like his United Nations speech on September 9, 1963, the inaugural address in Washington DC on January 1, 1961, his monumental Berlin speech on June 26, 1963, and an iconic portrait of President Kennedy in front of the white house. Not just a memorable president, but an historical icon who kept his promises and took us to the moon and beyond. Coordinating John F. Kennedy address labels are also available....

---