Miss Piggy Checks
Order Miss Piggy personal checks online in a variety of designer styles.
Address labels and covers are also available to match or complement most of our check designs.
---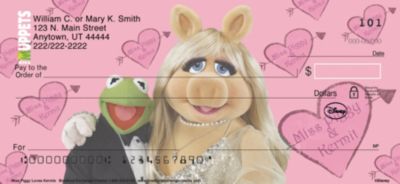 Miss Piggy Loves Kermie Personal Checks
These Muppets Miss Piggy Checks Celebrate the Love Between Miss Piggy and Kermit the Frog - Only Miss Piggy gets to call Kermit the Frog her sweet Kermie - and she likes it that way! Celebrate a love that will last a lifetime with these Disney Muppets Miss Piggy checks from Bradford Exchange Checks! Four dynamic designs capture the beauty of their relationship with endearing portraits of the happy couple and sweet pink or purple backgrounds featuring hearts, lips and more. Each colorful check also includes a sweet sentiment of Miss Piggy & Kermit , I only have eyes for…vous! , Kissy Kissy! or Kermie & Moi. Plus, you'll find these Disney Muppets Miss Piggy personal checks are just as practical as they are sweet. Brought to you exclusively by Bradford Exchange Checks, they're expertly re-created with premium-quality check printing. Don't miss this terrific chance to celebrate a match made in piggy and frog heaven - get your Miss Piggy Loves Kermie checks as soon as possible! Order now! Pricing shown is for 2 boxes of Singles....

---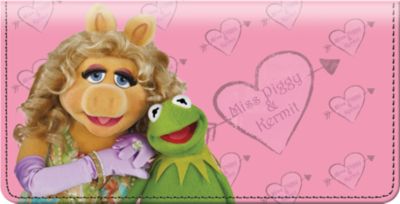 Miss Piggy Leather Cover
Celebrate the dynamic duo Miss Piggy and her beloved "Kermie" with this genuine leather Disney Muppets Miss Piggy cover for your checks! Custom designed to coordinate with our "Miss Piggy Loves Kermie" personal check designs, this heartwarming Disney Muppets Miss Piggy checkbook cover features Miss Piggy and Kermit the Frog posing in front of a pink background filled with hearts. As a special touch, "Miss Piggy & Kermit" can be found within each heart, perfectly expressing their forever love....

---