Finding Dory Checks
Order Finding Dory personal checks online in a variety of designer styles.
Address labels and covers are also available to match or complement most of our check designs.
---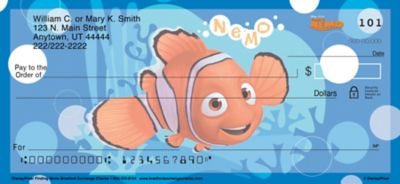 Finding Nemo Checks
Surf's up! Catch a wave with Nemo and friends every time you use these Finding Nemo Disney/Pixar checks from Bradford Exchange ChecksŪ! Four dynamic designs capture the delight of the deep blue sea with either a portrait of Nemo with his name written in bubbles, a portrait of Nemo and Dory with "Where was I going?", Bruce, Chum and Anchor with "Fish are Friends Not Food", or Crush and friends giving Nemo and Dory a lift on the East Australian Current. Plus, vivid underwater backgrounds and the movie title design add extra flair to these Disney/Pixar personal checks....

---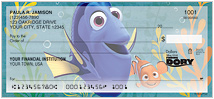 Finding Dory Checks
Swim into a world full of magic and wonder each time you write a check with the Finding Dory personal checks. This colorful design captures the charming personalities of Dory and her friends Marlin Nemo Hank and Destiny. Matching Finding Dory labels and checkbook cover are also available. Order the Finding Dory checks today and take the magic of Disney/Pixar with you wherever you go! Disney/Pixar Product Description Singles Duplicates Checks per pad 25 20 Pads per box 5 5 Checks per box 125 100 What's Included FREE 20 Deposit Tickets and1 Transaction Register...

---