Violin Personal Checks
Order Violin checks and other tasty musical bank check designs online in a variety of styles.
Matching labels and covers are also available to compliment most of these Violin personal check designs.
---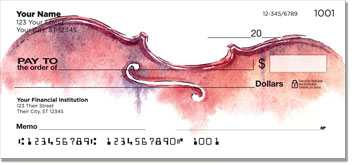 Violin Checks
...

---
Strings and Bows
Violin Personal Checks feature these beautiful stringed instruments. Violins are the smallest of the violin family of instruments which also includes the viola and cello. Tuned in perfect fifths with 4 strings, a violin is sometimes informally called a fiddle. The word for violin and fiddle are both derived from the Latin word vitula which means 'stringed instrument'....

---
Classical Personal Checks
Classical Personal Checks - If you love classical music then you'll love these classic personal bank checks. Let this four series set of personal bank checks be an ode to your checkbook that strikes all the right notes. ...

---