G Clef Personal Checks
Order G Clef checks and other tasty musical bank check designs online in a variety of styles.
Matching labels and covers are also available to compliment most of these G Clef personal check designs.
---
Treble Clef Notes Checks
In Tune Checks - Keep in key with these sharp designer symphony prints, whether you're composing your ninth masterpiece or just enjoy singing along while taking a hot shower....

---
Rainbows Of Music Personal Checks
Rainbows Of Music Personal Checks - Enter the colorful world of music! Staffs, notes, treble clefs, conductors, and musicians are skillfully illustrated in these beautiful personal bank checks. Whether you're a hobbyist or professional, you're sure to look stylish with these in your checkbook....

---
Music travels Personal Checks
Music Travels Personal Checks - Fun colorful and artsy, these rainbow colored musical checks will perk up any wallet! Write your own tunes with these fun-loving personal checks!...

---
Melody Personal Checks - 4 colors
Checks In The Mail, Inc What's Included Per Box: 5 Pads of Checks 20 Deposit Tickets 1 Transaction Register...

---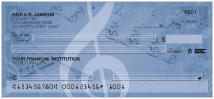 Melody Checks
Melody is a must-have check for those who love the Musical Arts! Melody includes 4 scenes featuring warm colors and subtle sheet music backgrounds. Express your music appreciation and compose your next check with the Melody Collection! Product Description Singles Duplicates Checks per pad 25 20 Pads per box 5 5 Checks per box 125 100 What's Included FREE 20 Deposit Tickets and1 Transaction Register...

---
Better Than Chocolate Personal Checks
Music Symbol Personal Checks - What could possibly be better than chocolate? Listening to a smooth instrumental note of course! Find your own rhythm with these transcendent personal checks!...

---